November, 2020
Have you ever struggled to acquire a good image when using a machine vision camera? Often times, it is challenging to use a camera to inspect product features such as colors and barcodes while also checking part assembly or detecting low-contrast features like clips and adhesive beads. KEYENCE's Pattern Projection Vision System solves these issues and more with an award-winning combination of cameras and lighting for complete part inspection and assembly verification.
3 Key Reasons to Add Pattern Projection to Your Process
1 Simultaneous 2D & 3D Imaging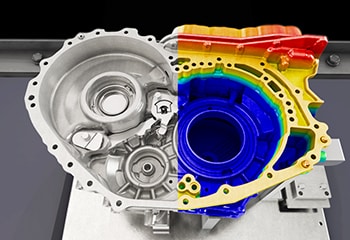 Pattern Projection enables 2D color/monochrome and 3D height inspection with just one camera to solve all applications. Camera resolutions up to 5 megapixel can be used for all standard vision applications while adding the third dimension for added stability.
The addition of the 3D image makes challenging inspections like solder and welds extremely simple by inspecting based on height instead of analyzing color or intensity with a 2D image.
2 Stably inspect parts with low contrast features
Inspection needs change all the time, but that doesn't mean the inspection hardware needs to change. Equipped with various imaging modes, the Pattern Projection Vision System provides images for all types of parts. Applications include seating on assembled metal parts, detection of beads and gaskets to ensure quality seals, and eliminating glare on shiny plastic parts.
3 Inspect large parts in 3D
In the past, using 3D imaging has required trade-offs such as a smaller field of view to achieve a desired accuracy.
KEYENCE has identified this issue and can now image parts up to 10x10 inches (250x250mm) with 4 inches (100mm) of depth.
This is extremely beneficial when working with larger, low-contrast parts that require inspection such as seals on motor components and clip verification on door panels.
KEYENCE's Pattern Projection technology provides the functionality to tackle inspection and assembly checks with ease, and its versatility can adapt to your inspections for years to come. Whether the task is validating large parts, detecting small beads, or eliminating glare, this award-winning development in machine vision has your inspections covered.