View Catalog

Marking Builder 2 Software Interface
Marking Builder 2 Software Interface
*OPTIONAL
The dedicated editing software allows for quick and easy programming in 2D and 3D environments. Once the laser marker is programmed it can be used as a completely stand alone system without the need of a connected PC.
The MD-F Series can perform marking on any surface and shape.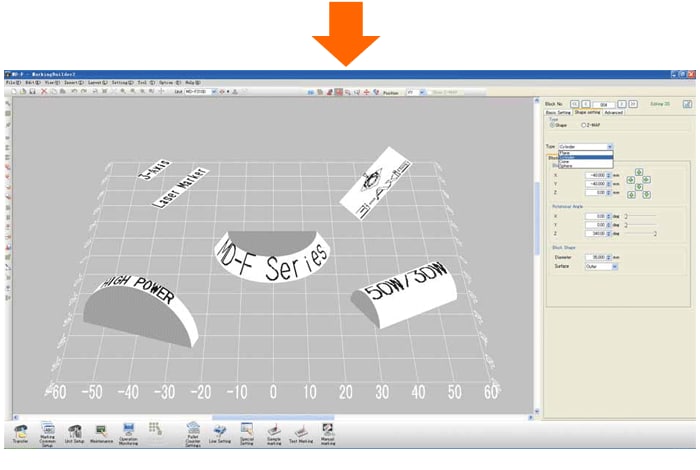 Programming marking contents to fit a certain shape is as easy as selecting the type of shape from a drop down menu. The marking contents then appears in the 3D programming environment.
SAMPLE MARKING
Easily select the type of material and the contrast level you want to achieve with laser marking. Then the system will automatically plot out various settings to work with your target. All you have to do is select the best looking mark.
In addition
The SR-D100 Series 2D code reader is equipped with a function to read sample barcodes marked with KEYENCE lasers and output the optimum marking conditions based on code readability.
2D CODE PATTERN SELECTION
Marking patterns can effect the way a barcode is illuminated and how well it is identified by the code reader. The Marking Builder 2 software allows for ultimate flexibility in pattern selection with more than 10 patterns to choose from and many more combinations possible.
Marking Builder 2 Software Interface
View Catalog