What is True Flexibility:
The LR-W lineup provides the ability to tackle any appearance based application within a single series.
Long Range Model
LR-W500(C)

All-Purpose Detection
Long Range
Adjustable Beam Spot
Small/Dual Spot Model
LR-W70(C)

Small Targets
Complex Registration Marks
Difficult Assemblies
Fiber Extension Model
LR-WF10(C)

Limited Spaces
Harsh Environments
Versatile Options
Long Range Model [LR-W500(C)]
With an impressive 500 mm 19.69" range, the LR-W is able to solve applications that were once considered out of reach. The LR-W also features an easy to adjust spot that can be widened or focused to provide the best detection based on the target. These two features combine to make the LR-W a truly all-purpose solution.
Small/Dual Spot Model [LR-W70(C)]
Small Spot Detection
By utilizing the one spot detection mode, it is possible to easily detect/confirm the appearance of smaller targets.
Confirmation of proper chip orientation
Weld seam detection on metal coil stock
Dual Spot Detection
The innovative usage of dual spot technology provides a level of precise appearance detection that has never been seen before. The LR-W70(C) also offers two unique sensing styles when using Dual Spot Detection.
Fiber Extension Model [LR-WF10(C)]
Benefits of Fiber Extension
Small Size Heads
Fiberoptics enable detection in locations that are too tight for conventional sensors.

Accessible Controls
Simple and accessible remote programming is possible when using fiberoptic heads.

Versatile Options
High temperature, high flex, and numerous mounting options are all available in the extensive fiberoptic lineup.
Mounting constraints require a small spot and small head
Through the use of built-in or attachable lenses, certain fiber heads are able to achieve exceedingly small spots.

APPLICABLE HEADS
FU-20: Spot Diameter: 0.1 mm 0.004" Focal Distance: 5 mm 0.20"
FU-10: Spot Diameter: 0.9 to 3.5 mm 0.04" to 0.14" Focal Distance: 10 to 30 mm 0.39" to 1.18"
FU-35FZ w/ F-2HA Lens: Spot Diameter: 0.4 mm 0.016" Focal Distance: 7±2 mm 0.28"±0.08"
Environmental concerns
Guarded (FU-40G, FU-35FG)
Stainless steel guarding prevents damage due to crushing or pinching.
High Temp (FU-83C)
Operate stably in environments of up to 300ºC (572ºF).
High Flex (FU-49U)
Mounting on machines with continuous motion is no longer a concern.
Seamless Integration
The LR-W has selectable NPN or PNP outputs in the same unit, making it easy to standardize on different machine types.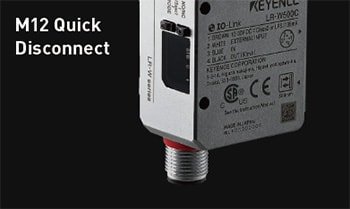 The LR-W Series offers a standard M12 4-pin quick disconnect option for easy wiring.
The LR-W features a standard mounting pitch of 25.4 mm 1.00", allowing it to easily mount on existing brackets.
If flexible mounting is required, an adjustable mounting bracket is also available.