View Catalog

CV-5000 Series
The Industry's Most State-of-the-art Problem Solving Tool is Now Even Better.
Introducing the New CV-5000 Series, Relentless in Its Ability to Solve Challenging Applications.
11x high-speed, 5 million-pixel camera
Ultra high-definition image processing is now available
The 11x high-speed camera transfers ultra high-definition, 5 megapixel images (2432 x 2050 pixels) in 61.2 ms (16.3 times/sec). High-speed production lines can now harness the benefits of high-precision image processing. The new CV-5000 Series accepts up to four 5 million-pixel cameras and transfers the images simultaneously, allowing for high-definition inspections of up to 20 million pixels.
3+1 processor technology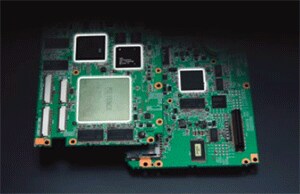 High-speed, parallel processing system
The 3 + 1 parallel processing architecture addresses the heavy processing needs required by high-volume 5 million pixel-images, color processing, and advanced algorithms that perform complex numeric operations.
Fourteen different camera types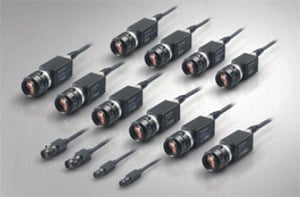 Select the camera best suited for the application
Users can select the optimum camera for their application from the industry's most extensive lineup of 5 million-pixel, 2 million-pixel, and ultra compact cameras. Each camera type is available in color or monochrome models. The CV-5000 Series can simultaneously run up to four different camera types making multi-camera applications more cost efficient.
Introducing an expandable controller architecture
Controller-based illumination
This architecture allows users to increase the flexibility of their systems using expansion units, this includes the camera expansion unit and the light control expansion unit. By limiting the functionality to the essentials, users can meet their requirements, reduce costs, and still maintain the flexibility to upgrade in the future.
New defect detection algorithms for tackling difficult applications
Solutions for sophisticated defect inspection applications
Several new algorithms have been added to detect foreign objects or burrs on irregularly shaped profiles. These new algorithms also filter out glare and other background noise so that only the flaws are emphasized.
Trend edge defect detection

Burr and chip detection in molded resin items
Detection of chips in round edges, previously difficult,is now easily detected.

Real-time shading correction

Even if the background irregolaritise cause light and shade difference, foreign bodies are stably detected.
New image enhancement processing
Reliable detection under poor conditions
Significant advances were made to preprocessing functions that eliminate conditional changes caused by workpiece variation. The newly equipped Fine Color Processing function processes full-color information to reliably extract defects from backgrounds with pattern or variations in illumination.
Foreign particle detection on a rounded metal surface

Isolates the foreign particles by cancelling out the metal reflections

Foreign particle detection on diagonal striped background

Removes the striped pattern and reveals only the foreign particle
Full range of statistical and image archive functions
CV-5000 Series controllers come with built-in statistical functions that let the user view the inspection results in realtime. The on-board image archive can store up to 1023 past inspection images that can be reviewed at a later time. Combining these two features allows for detailed analysis of product result trends and failure conditions, making it easier than ever for users to fine tune their program tolerance and settings to improve yield rates.
View Catalog