Products
Choose from a wide variety of 3-Axis laser markers and engravers. KEYENCE offers fiber, CO2, UV, hybrid and green laser marking systems.
MD-X Series Hybrid Laser Marker
MD-X laser markers are versatile, general-purpose systems for marking and processing a wide range of materials.
These powerful hybrid marking systems boast an internal vision system, full-field autofocus and marking analytics tools.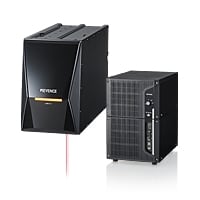 MD-U Series UV Laser Marker
MD-U laser markers are designed for high-contrast, damage-free marking applications. UV lasers excel at marking plastics, glass and other heat-sensitive materials. The MD-U's marking head contains an embedded multi-function camera that can autofocus to a part, check marking quality and read 2D codes.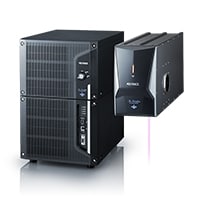 MD-F Series Fiber Laser Marker
MD-F fiber laser markers are high-powered machines designed for deep engraving and high-speed processing. 3-Axis scanning and on-the-fly focal adjustments give the MD-F series a leg-up over conventional laser engravers.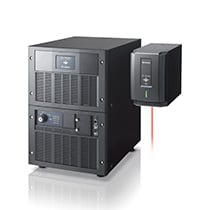 ML-Z Series CO2 Laser Marker
ML-Z CO2 laser markers are incredibly versatile. They can mark opaque objects like paper, wood, rubber, ceramics and transparent objects like glass. CO2 lasers are also used for gate cutting, drilling and decapsulation.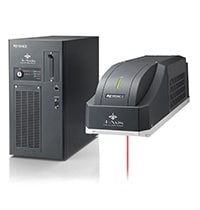 MD-T Series Green Laser Marker
MD-T green laser markers use an integrated telecentric lens to keep the laser beam perpendicular across the entire marking surface. This ensures micron-level marking and processing throughout the target area.