Measurement System Types and Characteristics
Optical CMMs (VMMs)
Overview
An optical CMM, similar to optical comparators and measuring microscopes, is a non-contact instrument that uses images to perform measurements.
Optical CMMs are also known as CNC image measuring machines, where "CNC" is an abbreviation of Computer Numerical Control. As the name suggests, these machines use image processing technology to perform automatic measurements that are both fast and highly accurate. As factory automation at manufacturing sites has steadily progressed, so has the rapid development of these measuring instruments.
Optical CMMs are highly valued not only for their highly accurate measurements but also for their ability to check for defective parts on manufacturing lines. Recent models use highly accurate CCD cameras to enable the observation of color images. Meanwhile, the evolution of the associated software has made it possible to perform varied edge detections and to support complicated calculations.
Construction and Applications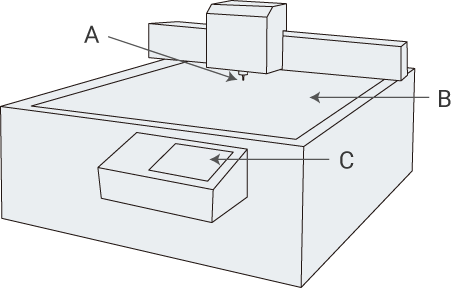 How to Use an Optical CMM
Place the measurement target in the metrology lab for at least 5 hours before measurement to allow the target to adjust to room temperature (generally 68°F). This will prevent errors due to thermal expansion.
Place the target on the stage, and scan it to capture an image that will be used for detecting the edges.
Some models can also perform auxiliary measurements using laser light or a touch probe.
The measured values can then be output as various types of CAD data.
Handling Precautions
Use a calibration chart to periodically check the auto-focus accuracy and other performance factors.