Reducing Our Environmental Impact through Business Activities
Recycling Efforts
Paper Recycling
KEYENCE is also working hard to manage paper recycling. In addition to efforts to digitize application forms that used paper in the past, we have installed recycling containers on each floor of our office, and paper is collected by a recycling vendor. This paper goes through a recycling process and is recycled into cardboard.
Reducing Our Carbon Footprint
Making the Switch to LED Lighting
As part of our efforts to reduce our environmental impact, we are reducing our carbon footprint by switching to LED lighting at our head office building and all distribution locations.
The switch to LED lighting is reducing our carbon footprint by approximately 64%.
Updating to High Efficiency Air Conditioners
By switching to energy-saving air conditioner models with lower power consumption and compact models that use less resources, KEYENCE is using environmentally friendly technology that will reduce its carbon footprint.
Reducing Waste at Distribution Centers
In the past, it was necessary to prepare packaging boxes for each product size and use cushioning material to fill the extra space. With the installation of automated packing equipment, the space inside the packaging box can be utilized more efficiently. As a result, the amount of cushioning material can be reduced. In addition, integrating new types of packaging boxes used has helped to reduce resources and space.
ISO 9001/14001 Certification
KEYENCE has received ISO 9001/14001 certification for its efforts to contribute to the environment through business activities and products.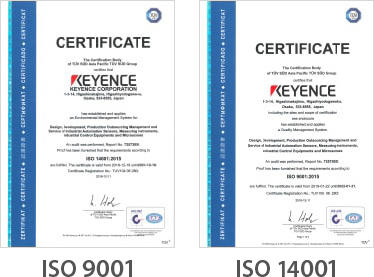 Business
Respect for Human Rights
Human Resources Development
Environment
Sustainability in the Supply Chain
Governance