Reducing Our Environmental Impact through Our Products
Contributing to the Global Environment through Our Products
KEYENCE contributes to environmental conservation not only by creating products with the environment in mind, but we are also reducing the environmental impact at locations where customers use our products, which benefits society as a whole.
That is to say, we create products with large added value using less resources and energy, and these products improve manufacturing productivity and reduce environmental impact.
Pursuing greater added value always leads to environmental contribution.
Climate change measures
Reducing our carbon footprint and saving energy
Global environmental protection
Reducing hazardous substances and achieving zero emissions
Environmental contributions using our products
Reducing our environmental impact during manufacturing
Further contribute to reducing costs and improving profit for customers
Developing Products with Low Environmental Impact
Smaller: Reduction of parts used
Photoelectric Sensor PR Series
By using our own hybrid construction, we have increased shock resistance by five times while reducing the size by 81% over conventional models.
The result is a photoelectric sensor that is the smallest in its class with significantly improved sensor functionality.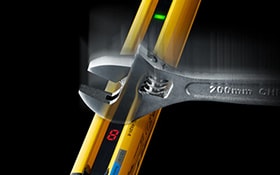 Stronger: Using longer lasting materials
Safety Light Curtain GL-R Series
We achieved an overall durable design that minimizes the need for replacement parts in response to damage.
In addition to protecting the optical surface, which is subject to the most damage, the design uses a twin bumper construction to protect the display, achieving a robustness with high shock resistance even for the mounting bracket.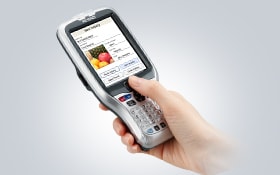 More efficient: Using less energy
Handheld Mobile Computer BT Series
Using a battery degradation control algorithm extends battery life.
The battery degradation control algorithm improves battery life drastically, resulting in less-frequent battery replacement.
Products That Assist in Efforts Toward the Reduction of CO2
We are contributing to CO2 reduction activities through our products.
Step 1. Visualization
Product examples: Flow meters, pressure sensors, and level gauges
Installing a flow meter or pressure sensor on pipes before and after a compressor allows for the visualization of the flow or pressure of each pipe. This makes it possible to determine the operating status of and the air leakage from the equipment, allowing for the extraction of specific problem points, the implementation of countermeasures, and the measurement of results.
Click here for a video introduction to the FD-G Series Clamp-On Gas Flow Meter.
Step 2. Data acquisition and analysis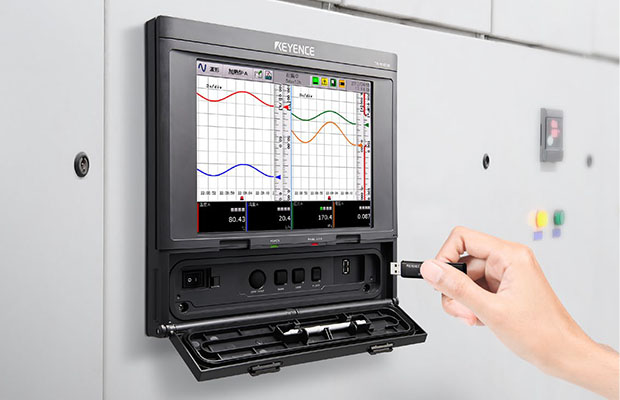 Product examples: Paperless recorders and programmable logic controllers (PLC)
The ability to visualize and record data from sensors and other equipment makes it possible accurately understand energy usage in real time and measure the impact of efficiency improvement initiatives.
Products That Contribute to Reduction of Waste and Energy Saving in Marking Processes
FP-1000 Series UV Laser Coder, a product that changes common conceptions about packaging marking
What is a UV laser coder?
Unlike conventional thermal printers that transfer ink to the surface of the film, UV laser coders use a UV laser to mark only the marking layer of a film.
Eliminating CO2 Emissions from Ink Ribbon Disposal
Because conventional thermal printers use ink ribbons, CO2 is emitted when disposing of used ink ribbons.
UV laser coders do not use ink ribbons, so these conventional CO2 emissions are eliminated.
Disposal loss simulation
Assume that 4 ink ribbons are replaced each day at a factory that operates for 25 days each month. The result is that 1200 ink ribbons must be disposed of each year.
If 1 ink ribbon weighs 500 grams, 1200 ink ribbons will weigh 600 kilograms, which converts to approximately 1.2 tons of CO2 emissions during the disposal of these ribbons.
UV laser coders do not use ink ribbons, so these conventional CO2 emissions are eliminated.
Business
Respect for Human Rights
Human Resources Development
Environment
Sustainability in the Supply Chain
Governance