Reducing Our Environmental Impact Through Our Products
Contributing to the Global Environment Through Our Products
KEYENCE contributes to environmental conservation not only by creating products with the environment in mind, but we are also reducing the environmental impact at locations where customers use our products, which benefits society as a whole.
That is to say, we create products with large added value using less resources and energy, and these products improve manufacturing productivity and reduce environmental impact.
Pursuing greater added value always leads to environmental contribution.
Climate change measures
Reducing our carbon footprint and saving energy
Global environmental protection
Reducing hazardous substances and achieving zero emissions
Environmental contributions using our products
Reducing our environmental impact during manufacturing
Further contribute to reducing costs and improving profit for customers
Developing Products with Low Environmental Impact
Smaller: Reduction of parts used
Photoelectric Sensor PR Series
By using our own hybrid construction, we have increased shock resistance by five times while reducing the size by 81% over conventional models.
The result is a photoelectric sensor that is the smallest in its class with significantly improved sensor functionality.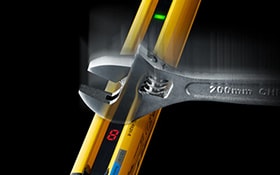 Stronger: Using longer lasting materials
Safety Light Curtain GL-R Series
We achieved an overall durable design that minimizes the need for replacement parts in response to damage.
In addition to protecting the optical surface, which is subject to the most damage, the design uses a twin bumper construction to protect the display, achieving a robustness with high shock resistance even for the mounting bracket.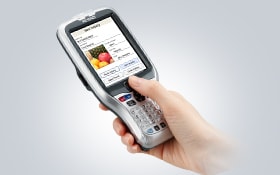 More efficient: Using less energy
Handheld Mobile Computer BT Series
Using a battery degradation control algorithm extends battery life.
The battery degradation control algorithm improves battery life drastically, resulting in less-frequent battery replacement.
Reducing Environmental Impact at Customer Locations
Contributing to the Reduction of Material Waste
The introduction of 3D printers has significantly reduced the time required to produce samples and waste generated during rework.
Examples of Modeled Objects
Connectors
Fine connectors can be scaled up and verified in detail.
On-board control units
It is possible to check the fit of and the interference between the circuit board and components while viewing the internal state.
Detergent bottles
It is possible to check the weight, pourability and how it fits in the palm.
Pumps
It can also be used for evaluation when combined with heating elements such as motors.
Managing the Amount of Water Used
Flow sensors that were difficult to retrofit in the past now incorporate proprietary technology that enables easy installation simply by clamping, without having to cut into piping.
This enables management of a variety of fluids, including water, thereby helping reduce environmental impact at customer locations.
In addition, this technology can record usage for a certain period of time using only the main unit, without the need for a recording device, for easy usage management.
Data recorded on the main unit
Cause analysis
Data is output using RS-232C communication and analyzed using a computer
Usage management
Can be checked on the main unit screen
Business
Respect for Human Rights
Human Resources Development
Environment
Sustainability in the Supply Chain
Governance