Addressing Societal Challenges Using Our Products
Improving Productivity
We are working to streamline the manufacturing process in various industries and countries to improve productivity and efficiency.
By proposing solutions that lead to improved productivity, product quality can be ensured, while production time and waste can be minimized.
Image-Based Laser Sensor IX Series
Conventionally, objects to be inspected were moved to measure multiple points, or processes were detected separately.
The IX Series identifies measurement targets through imaging and measures specified points with a laser to detect multiple heights at the same time.
This helps reduce production and inspection time.
Improving Product Quality
As the functionality and sophistication of products advance, product quality has become more important. KEYENCE products can be used to stably produce high quality products.
Image Processing System XG-X Series
This system uses multi-spectrum lighting with eight wavelength LEDs and the industry's fastest 14-core image processing system to accurately identify subtle color differences that cannot be identified with a regular color camera.
It helps improve food safety by quickly inspecting food for foreign matter, or other defects.
Ensuring the Safety of the Working Environment
We provide products that help improve safety at production sites. This also reduces the load on health and safety management.
Specifically, we are promoting the improvement of on-site safety by developing safety equipment that maintains productivity while securing the safety of workers from hazardous elements, such as machinery and robots used at production sites.
Safety Laser Scanner SZ-V Series
Safety measures are necessary at manufacturing sites, but these can lower productivity.
With KEYENCE's SZ-V Series, new technologies and concepts are combined to ensure both safety and productivity.
Detection of worker access to hazardous areas
Automated guided vehicle collision prevention
Safety Light Curtain GL Series
Indentation manufacturing process of molded parts
Assembly process safety measures
Improving the Working Environment
KEYENCE inkjet printers are equipped with various features to prevent health risks.
In the past, separate equipment was required to safely perform maintenance on inkjet printing equipment.
Daily maintenance is required to use an inkjet printer.
Examples of measures taken to prevent the release of chemical substances are shown.
General Principles of Containment
Examples of measures taken to prevent the release of chemical substances are shown.
Glovebox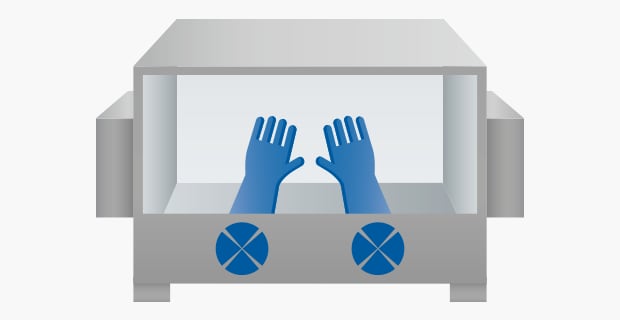 Workers must use this box, which provides airflow intake and exhaust to reduce exposure to chemical substances.
Respiratory Protective Gear
Workers are recommended to use a respiratory mask to prevent inhalation of chemical substances.
Occupational Health Protective Gear
Workers are recommended to wear protective glasses and solvent-resistant gloves to protect the skin and eyes.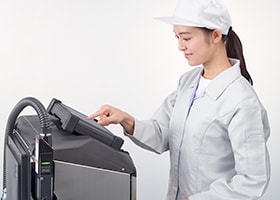 The MK-U Series enables anyone to perform maintenance safely.
The MK-U Series has a new design to prevent exposure to ink and solvents and associated vapors.
No special measures or additional cost is required as is the case with conventional inkjet printers.
Equipped with auto-shower cleaning function
Set up the dedication station to control the volatilization of chemical substances even during auto-shower cleaning.
It is safe because there is no contact with the cleaning liquid.
Direct bottle drainage
Secure the bottle and cap firmly before starting to prevent leakage while draining. Drainage completes without worries about exposure or inhalation.
Ink and solvent cartridges
There is no need to pour ink or solvent into a tank, thereby eliminating the risk of volatilization or spills.
When a cartridge runs out, replace it with a single action.
Easy replacement
Simply follow the instructions to replace the filter without worries about internal ink spills.
No tools are required to replace the filter.
Business
Respect for Human Rights
Human Resources Development
Environment
Sustainability in the Supply Chain
Governance