Thickness / Width

When selecting sensors to measure thickness or width, the first step is to choose a method. The target's material, color, and location will all play factors in which option is the best fit for your application. You can browse through the most common setups below, or request a free consultation with a local measurement expert.
View Catalog

A sensor is placed above and below a target to measure the thickness of anything in-between. This non-contact method can be used for measuring the thickness of any material and can be used in process or for offline inspection.
Confocal Displacement Sensor
CL-3000 series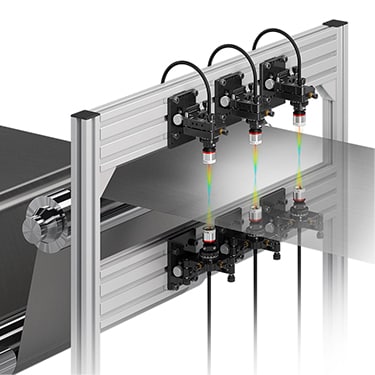 Opposing 2D profilers can scan multiple points of thickness over a part. This allows stable thickness measurement even on rough surfaces.
2D/3D Laser Profiler
LJ-X8000 series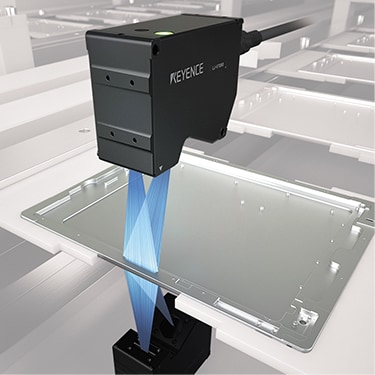 With two thrubeam micrometers installed on either side of a film, we can get a width measurement and give film position, regardless of color or material.
High-speed optical micrometer
LS-9000 series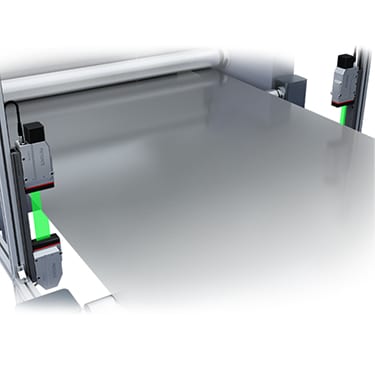 2D thrubeam sensors can measure the step height between a roller and a sheet to get a thickness measurement. Additionally, A second sensor can be added to get a width measurement.
Telecentric Measurement System
TM-X5000 series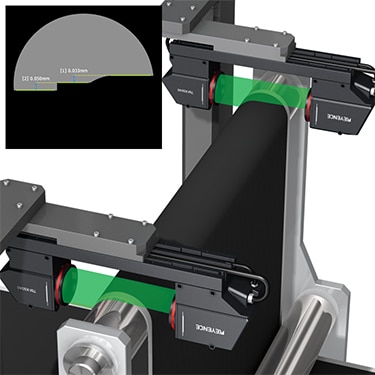 Measure transparent films and coatings with a single displacement sensor. Confocal sensors give an accurate thickness measurement from one side of transparent targets.
Confocal Displacement Sensor
CL-3000 series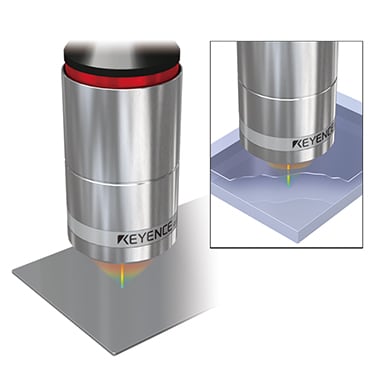 2D Profilers give width, height, and volume of sealant beads inline without touching a part.
2D/3D Laser Profiler
LJ-X8000 series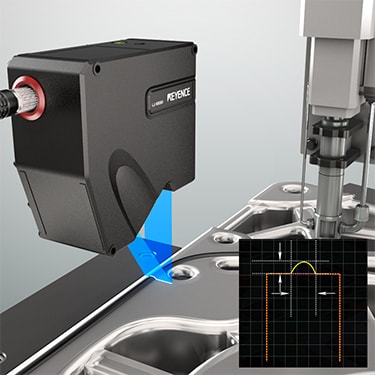 Conventionally, a vision sensor was used for OK/NG judgment based on the area. Since the LJ-X8000 Series can measure the volume and position of paste application, it can reduce material costs and support higher component densities.
2D/3D Laser Profiler
LJ-X8000 series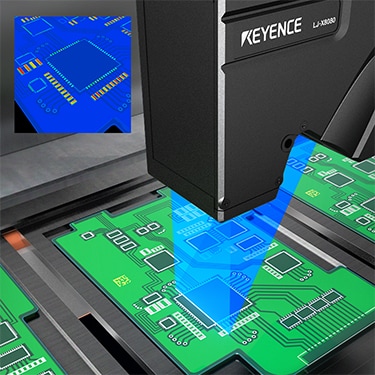 In-line thickness measurements can be altered by roller eccentricity, wrinkles, or tension in the sheet. Up to 6 measurement points and 4 layers of clear film can be measured with a single controller.
Confocal Displacement Sensor
CL-3000 series