Centralized Data Management
With a sensor network, OK/NG signals, measured values, and error states of the sensors connected to a PLC can be checked at a glance.
When an NG state arises, even a sensor outputting NG signals or the picture captured by a vision system in an NG state can be checked.
When a problem occurred, sensors/equipment had to be checked one by one
When an error occurred, it was difficult to find out where it occurred and what caused it. Parts and sensors had to be checked one by one, wasting labor hours.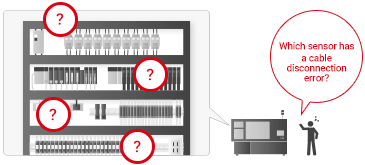 When a problem occurs, the location and details of the error can be checked immediately
When an error occurs, it is easy to find out which part (or sensor) has the error. The part can be identified and the details of the error are displayed. Maintenance work can be finished quickly.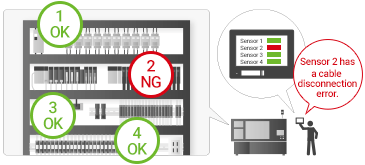 Advantages of IoT/Networking
Centralized Data Management
Quick identification of a failed sensor and the cause of the error enables immediate action for recovery.
The data from each process can be collected in real time and linked to the processed amount, inspection result, and shipment information of the product. This ensures traceability of the parts and products, which is useful for rapidly solving defective product issues and predictive maintenance.