Simplified Wiring
The network compatibility allows connection with a PLC through a single cable.
This eliminates cable preparation or terminal block wiring, resulting in shorter installation time.
Connecting only as many cables as the number of amplifiers
The more sensors used in the facility translates to longer labor hours required because of wiring increases.
Connection of a single cable only
Connecting only a single cable allows acquisition of OK/NG signals or output of measured values from sensors. You can manage multiple sensors in a batch and finish maintenance by just replacing a single cable, which means fewer labor hours are needed for recovery.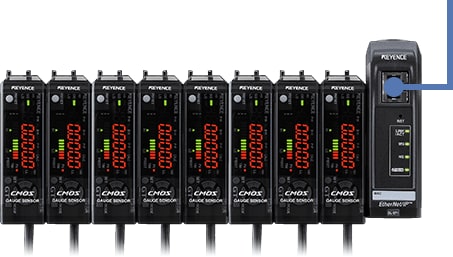 Advantages of IoT/Networking
Simplified Wiring
The labor-hours for wiring can be reduced during sensor mounting and replacement.
The labor-hours for maintenance can also be reduced greatly.