Pattern Projection Processing Principle
Pattern projection accurately captures target appearance
Multiple stripe patterns are projected at high speed. An ultrahigh-speed CMOS sensor and processor analyse the light reflected from the targets in real-time to generate a 3D image.
Multiple core processors to maximize performance
Enables inspection without influence from target surface conditions or contrast, by adding height data to conventional 2D inspection. Dramatically improves inline inspection stability.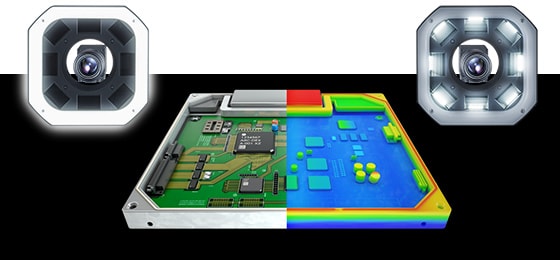 Applications
Rotator fin breakage inspection
No impact from complex backgrounds or material colors when using height data.

Transmission assembly and sealant inspection
Inspect for presence of sealant or gaps with plentiful 3D inspection tools, and for assembly component presence with 3D detection tools.