Processing Principle of A Wide-field Area Scan 3D Camera
Optimally designed image capture angle
The four cameras each capture images from different angles, eliminating blind spots and allowing the creation of stable 3D images.
High precision CMOS sensor
The high pixel density, high precision, low noise image sensor provides unparalleled detection performance.
High speed processor
The newly introduced high speed processor delivers ultra fast 3D calculations. Its high precision, high speed, KEYENCE-developed algorithms generate a single 3D image from 136 unique images.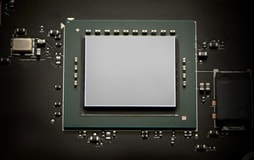 Specially designed projector
The high-intensity LEDs and high-resolution projector components allow the creation of high precision 3D images.
Applications
Wide area 3D inspection up to 1.26 m
49.61"

square and 1 m

39.37"

high
Inline appearance inspection of pressed parts for automotive bodies
During the assembly process for pressed parts used in automotive bodies, you can acquire 3D images for inline inspections to check whether the pressings and assemblies appear as designed. Since the image is output to the PC, it can be compared with CAD data for inspection.
3D robot vision for any workpiece
3D robot picking
You can generate 3D images for picking targets that are stacked in a box. Due to the specific design of the camera angle, a deep depth of field is maintained while avoiding any blind spots caused by the box.