Key points for stable, trouble-free operations
KEYENCE's MK-U Series is equipped with three reliable functions for stable operation, reducing problems frequently encountered with continuous inkjet printers. These three fuctions have earned the MK-U Series its favorable reputation when compared to competing products.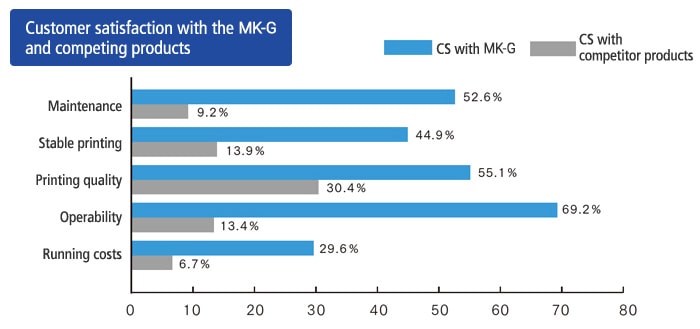 01 Automated maintenance for stable printing
Prevents nozzles from clogging during long breaks
World's first Auto-shower cleaning

Conventional automatic cleaning only used solvent to clean the ink paths. With the newly installed auto-shower function, the MK-U is able to clean the ink path and all the parts that are key to maintaining print quality all at once.

Conventional automatic cleaning

Only the ink paths are cleaned with solvent. Separate manual cleaning is required for any other dirty parts.

Auto-shower cleaning

In addition to cleaning the ink paths, the key parts of the head are also subject to high-pressure cleaning. This eliminates the need for manual cleaning.
Resolves printing errors caused by temperature fluctuations
Automatic ink particle optimization

The optimum ink particle status for printing is always fluctuating due to the ambient temperature and ink thickness (viscosity).
The MK-U Series senses the ink particles 10 times per second, which enables it to continually maintain the optimum ink particle status.
This maintains perfectly printed text at all times, regardless of the surrounding environment.

Dirt within the print head

Unstable text

If the optimum ink particle status is not maintained, the inside of the head becomes dirty and unstable text occurs.
Conventional
MK-U Series

It's necessary to make adjustments for the ink viscosity and temperature of the environment while visually checking the particle status.

- Errors are not noticed until unstable text occurs.

- It's difficult to recognize the optimum status, and making adjustments requires time and effort.

Ink particles are sensed and adjustments are automatically made to ensure the optimum particle status.

✓ Flawless printed text can always be achieved with minimal time and effort.
Conditioning tank system
The device is equipped with a specialized tank (the conditioning tank) and a viscosity sensor for use in collecting the solvent after cleaning.
Doing this prevents ink dilution, which stabilizes viscosity and maintains perfect print quality.
During automatic cleaning

After automatic cleaning, the solvent is routed directly to the conditioning tank. This alleviates over-dilution of the ink stored in the main tank.

During viscosity management

The ink viscosity in the main tank is measured. Based on this reading, solvent is supplied to the main tank from the conditioning tank.
Nothing is wasted because priority is given to the conditioning tank.
Three Main Advantages
Powerful cleaning

Cleaning can be performed without concerns regarding ink dilution.

Dark printed text

Ensures dark and distinct printed text, a required capability for printers.

Draining is unnecessary

Wasteful draining due to ink dilution is prevented. This allows efficient expenditure of consumables.
02 Single cable connection with a vision system
Quick response to sudden unstable text

Installation with no unnecessary costs

In order to synchronize a message printed by any inkjet printer with a vision inspection system on a conventional inkjet, a software is required with an additional cost.
With the MK-U Series, these devices can be connected easily with a single cable, which enables printing inspections with no unnecessary costs for creating software.

Just one cable needed to connect, with no extra costs.
Eliminates operator errors

Prevents mistakes when choosing settings

With conventional systems, it was inevitable that inspection mistakes would occur due to incorrect selections when setting the inkjet printer and the vision system separately. When printing settings are switched on the MK-U Series, the inspection settings on the vision system are automatically switched to match, which enables mistake-free inspections.

The devices can be connected with a single LAN cable.

When the settings on the inkjet printer are switched, the settings on the vision system are automatically switched to match.
Useful vision system functions
Inspection history can be retained
Using VisionDatabase, a dedicated database, it is possible to save images captured during inspections until a set date.
This makes it possible to check inspection results when necessary by searching for a date or lot number.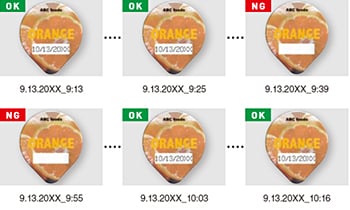 The inspection history for the specified date can be checked when necessary.
03 Super-adhesive ink for films
No printing omission regardless of packing material
Maintains adhesion with PP and PE films
The adhesive substance in the ink, known as the ink binder, is improved to conform with even polyether resin materials, which were difficult to print on with conventional inks.
Our new ink also features increased adhesion on other materials.
Printed text rubs off with conventional inkjet ink

Super-adhesive ink stays on firmly