Distortion-Free, VPR-Equipped, Telecentric Macro LensHigh-performance telecentric macro lens supporting 2/3" image sensors.
CA-LMHR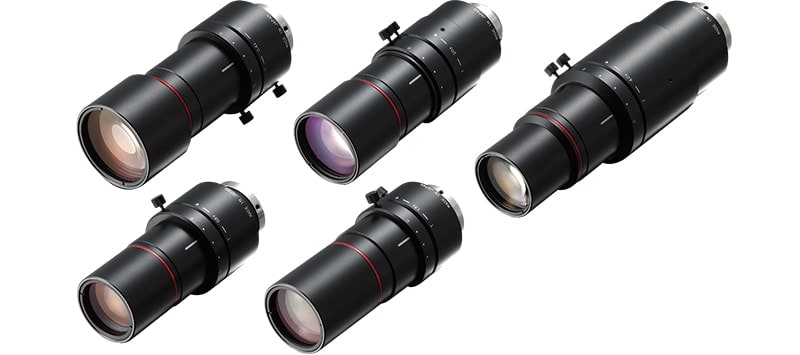 VPR equipped
With conventional telecentric macro lenses, the selections were limited and depended on the characteristic optical magnifications of the lenses. The VPR (Variable Pixel Resolution) mechanism not only makes it possible to select lenses intuitively according to the pixel resolution but also brings a level of freedom to the range over which optical magnification can be adjusted.
0.14 Mil

/pixel) and 2 megapixels (4.4 μm

0.17 Mil

/pixel).
These lenses are designed with optical magnification to match 5 megapixels (3.45 μm
Distortion free
All models have a TV distortion of 0.02% or lower. This reduces distortion to 0.25 pixels or less over the entire image even with 2/3" image sensors. These lenses are the perfect choice for a wide range of applications from dimension measurement to alignment.
Ultra high-resolution design
These lenses have been designed with consistently high-resolution not only in the center of the image but on its periphery as well. Even with a unit cell size of 3.45 μm 0.14 Mil/pixel, every part of the screen exhibits high-resolution and contrast.
CA-LMHR
CA-LM