Nick Rountree
Total Sensing Solutions Group
Sr. Sales Engineer TSS
Joined 2018
Nick Rountree
Total Sensing Solutions Group
Sr. Sales Engineer TSS
Joined 2018
What are your job responsibilities?
I sell our sensors, safety products, and flow control equipment for southern Arkansas. I travel to companies in my territory to help solve applications and pitch new products to our customers.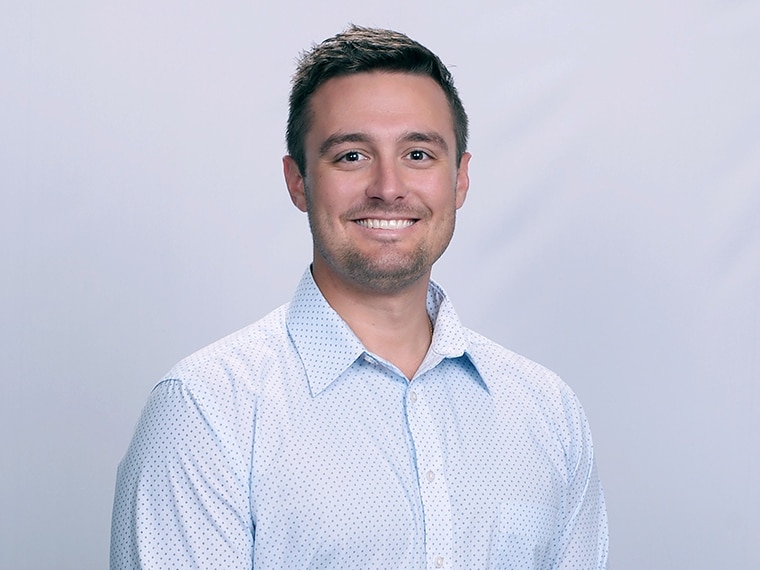 How did you learn the technical skills at KEYENCE?
Coming into this job I had no prior experience in engineering or manufacturing so I was pretty worried however, we have a great training program at KEYENCE. This is instrumental in learning our products. Although it is a sales job, it's important to have a good understanding of how our products work to be able to help solve customer's applications. I come from a baseball background between playing and coaching. There are a lot of similarities in recruiting student-athletes and selling which helped me as a starting point for my sales skills. Our direct managers have small teams and there is a strong organizational emphasis on continued training. I have been very fortunate to work under great managers and I know KEYENCE is filled with them. The support you get is second to none.
What do you enjoy about your career and your position?
I like having the opportunity to help and work with so many people on a daily basis. This is an outside sales position so I see many different people and companies every week. Every day is a different challenge. Also, getting to learn about different types of manufacturing has been really fun. It's pretty cool to go help customers out and then see the same product in Walmart or your grocery store and know how it was made. It's very eye opening to see how much goes into making a product and we create an appreciation for the work our customers do.
What do you like about KEYENCE?
I like the culture that we have at KEYENCE. The structure of our job puts emphasis on hard work and the process of achieving our goals. In my past, the coaches I played for and myself in my own coaching career, all put a huge emphasis on the same things. So KEYENCE has been a great transition for me into my sales career because we have the same beliefs. I love how open the lines of communication are too. You feel comfortable giving your ideas and input to your manager and it is taken seriously. KEYENCE is constantly evolving and learning. I feel this is why we have such a stable salesforce and will continue to grow year after year. The culture and the relationships you build are what makes this job so great.
Any message you would share to prospective applicants?
KEYENCE is an amazing organization to work for. From my experience, you're treated with respect and have plenty of hands on training in both the technical and sales aspects of the job. Although our job is a grind, it's extremely rewarding to work here. If you don't come from an engineering background don't worry, a lot of us didn't. You will be trained on all the skills you need and will have continuous training and support throughout your career. Welcome!