Selecting a Measurement System
Selecting by Measurement Environment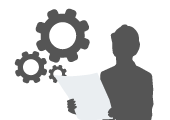 Manufacturing Site
Vernier calipers, micrometers, gauge blocks, and other measuring instruments are often found at metalworking and other manufacturing sites. Block gauges are rectangular solids made of steel whose dimensions and parallelism are guaranteed on the order of 0.1 μm. They are highly valued for their use in dimensional measurements of processed products. One of the advantages of gauge blocks is how they can be combined to create a variety of different lengths.
Dust, oil, and processing chips are common at any manufacturing site, so there is always the risk that errors will occur due to measuring instruments becoming dirty or being damaged. It is therefore necessary to keep the work area clean at all times.
Metrology Lab
Micrometers are frequently used to perform measurements in units of 0.01 mm. Based on Abbe's principle, these instruments are designed to perform measurements with high accuracy. Dial gauges are also used quite frequently. Laser length measuring instruments, image dimension measurement systems, and similar measuring instruments are used for measurements requiring units smaller than 1 micrometer and make highly accurate measurements easy to perform.
The room temperature in metrology labs is usually regulated, but there is always a risk of thermal expansion for metal targets. In order to perform precise measurements, consideration must be given to adjusting the target to room temperature prior to measurement, and to avoiding holding the target with bare hands.
Office
While the risk of contamination is low compared to manufacturing sites, it is difficult to perform precise measurements like those performed in metrology labs. Furthermore, as measurements may be performed by multiple people, the measuring instruments must be carefully managed in order to reduce the risk of the measurement results being compromised. As such, assigning device managers and defining management standards in advance are required.
Click here for information on handheld probe coordinate measuring machines that can be used on-site