Marking / Coding
Cut, etch and engrave barcodes, date codes, serial numbers and logos on a variety of surfaces.
Lineup
MK-G Series is the world's first self-troubleshooting continuous inkjet printer that completely eliminates the guesswork of inkjet maintenance and can be operated without any specialized product knowledge or skills. By incorporating KEYENCE sensor technologies to enhance self-diagnostic capabilities, the new MK-G Series can automatically perform maintenance and troubleshooting on its own – just like how a trained inkjet technician would. The unit features new functions that ensure automatic cleaning is performed every time before shutdown even when the power is disrupted, and allow users to check the status and perform operations on the printer remotely from a PC or Smartphone.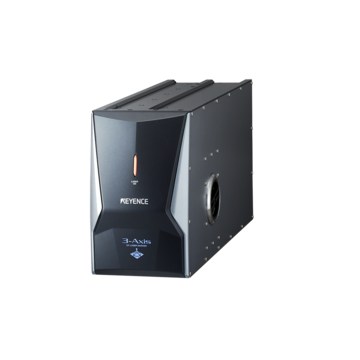 MD-U UV laser markers are designed for high-contrast, damage-free marking applications. UV lasers excel at marking plastics, glass, and other heat-sensitive materials. The MD-U's marking head contains an embedded multi-function camera that can autofocus to a part, check-marking quality, and read 2D codes.
UV Laser Coders are designed as a direct replacement for thermal transfer overprinters (TTO). This eliminates the need for ink ribbons required to transfer ink to the surface of the film with conventional thermal printers. The result is highly visible, damage-free marking without the need for special films.