Network Communication Units
Product Lineup
Features
One Simple Connection Unlocks Vast Amounts of Device Data and Control
The NQ Series Network Communication Module greatly simplifies sensor connections as an IO-Link Master Unit. The M12 connectors provide easy connections to IO-Link compatible devices, resulting in minimal installation time. The NQ Sensor Monitor software allows anyone to easily set sensor parameters by automatically recognizing connected KEYENCE products. Of course, all IO-Link compatible devices are supported.
Simplified Integration
IO-Link communication allows sensors to share large amounts of information with an IO-Link Master Unit via a single connection point. The master unit then converts this information to a common network protocol to communicate with a PLC, greatly reducing wiring.
Intuitive Software
The NQ Monitor software allows users to configure ports, check/change sensor settings, monitor devices in real-time, and much more. All of this can be done remotely or directly without needing to go through the PLC.
Unmatched Monitoring
Track data, including temperature, pressure, distance, level, and more, to help better understand your process. With customizable scales and settings, clear process information has never been easier to obtain.
Features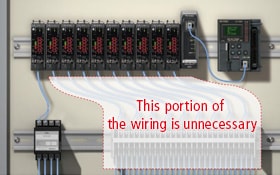 Save Wiring Time with Open Field Network
Wiring work can be cumbersome. For example, importing five outputs to a PLC from 10 amplifiers with amplifiers requires 52 individual wires. Using the DL Series for communication, wiring can be completed with just three wires.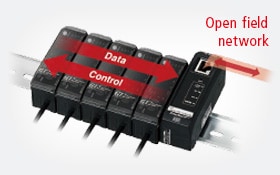 Batch Read and Change Settings for Multiple Amplifier Units
Batch transmit data for a maximum of 15 units. Settings can also be changed from a PC or PLC which leads to reduced setup time.