Inductive Displacement Sensors
Product Lineup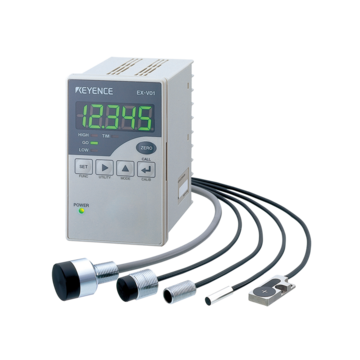 Features
The High-Speed, 40,000 Samples/Second Sampling, Does Not Overlook Any Instantaneous Changes
The EX-V Series combines high-speed sampling with a newly developed linearity correction circuit which results in dramatic performance improvement over conventional eddy current systems.
KEYENCE's conventional model: 2000/s
Automatic Configuration of Settings Just by Selecting the Mode
The optimal program for the application is automatically set by just selecting the measurement mode. There is no need for complicated settings of a trigger input, timer setting or arithmetic operation using external devices.
Timer operation or average value calculation can be set at the push of a button on the EX-V digital controller. No PLC or PC is necessary. No external devices are needed for synchronization.
Eddy Current Displacement Sensor with heat resistance of up to 200℃
Positioning Sensor detecting slight position misalignment with high accuracy