Mobile Computers / Handheld Computers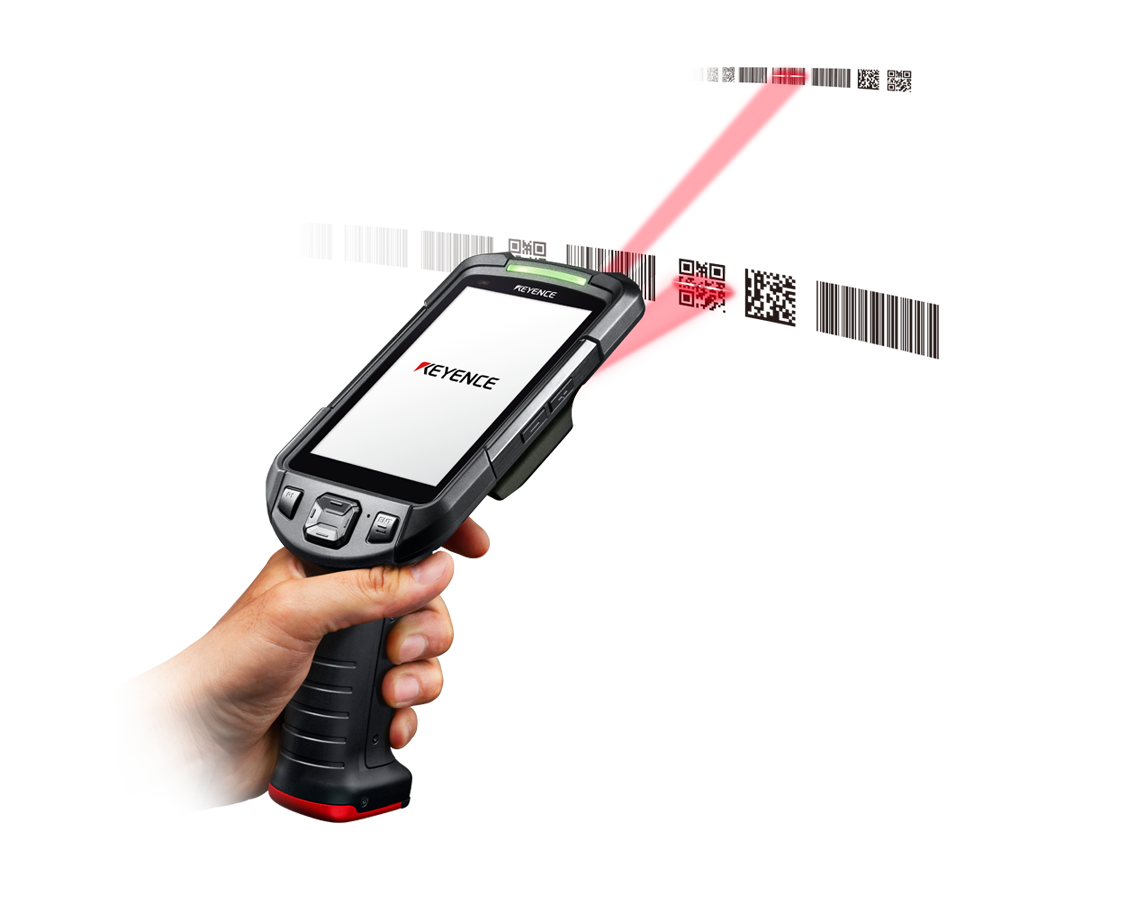 Handheld computers speed up data collection for many business-critical applications in industries such as manufacturing and logistics. Improve work efficiency with a large touch screen and ability to instantly read dirty or distant barcodes. The OCR function can optmize work even if no barcodes are present.
Handheld computers are highly portable terminal devices used for reading and collecting data concerning items. In recent years, not only can they read barcodes and 2D codes but they are capable of optical character recognition (OCR) to read characters directly marked on products and parts, such as lot numbers and serial numbers, as well as expiration dates. Unlike handheld code readers used for reading codes only, handheld computers have a CPU and LCD screen built into the body. They can be used for various applications through the use of business programs, as well as for information browsing and alert display. Typical applications are inventory, work-in-progress, and process management of parts, products, and raw materials. Handheld computers must provide excellent operability, durability, waterproofing, and dust proofing to enable their use in various worksites in the manufacturing, logistics, retail, and wholesale fields.
Benefits of Mobile Computers / Handheld Computers
Barcodes, 2D codes, and characters on product slips, instruction sheets, products, and parts can be instantaneously read, converted into data, and recorded.
It is also possible to record additional information such as the time of reading, which greatly improves the efficiency of warehousing and process management.
Some types of handheld computers can use optical character recognition (OCR) to acquire characters, such as serial numbers and lot numbers directly marked on products and parts, as well as expiration dates. This is effective for both reducing man-hours and preventing careless mistakes during the management of products and parts with no barcodes / 2D codes, which were impossible through visual check and manual entry.
After reading one code, handheld computers can read the information linked with the code automatically or can export information automatically to a specified row/column in Excel or other software.
The data read with handheld computers are saved automatically. To make it easier to collect data from each transaction, the saving format can be determined in advance, which reduces the number of work-hours spent on data management.
Some operation-specific applications may require labor and cost for programming. Since handheld computers allow the setting of business applications without programming, they can save development costs and the time and labor required before the start of the operation.
Handheld computers capable of wireless connection allow readout data to be applied to the system in real-time.
With paper-based aggregation, the overall results can be checked only after operations such as inventory and warehousing are complete and the data is entered into a PC. On the other hand, with wireless type handheld computers, the results can be transmitted as the work is being performed, so the status can be checked in real-time. This enables management with no time lag, which was impossible through paper-based aggregation. This prevents careless mistakes when data is created from paper or inventory is made by several workers. It also prevents mixed-up information in workplaces where the inventory changes frequently.
Handheld Computer Case Studies
Logistics
Automotive/Transport Equipment
Electrical/Electronic Devices and Semiconductors
Food, Pharmaceutical, and Cosmetics
Inventory Managemet
Inventory management refers to maintaining the optimal number of items to match the situation.
there are many things subject to inventory management, it is effective to use an inventory management system in which barcodes and 2D codes are affixed to items and handheld mobile computers or similar devices are put to use.

First, read the barcodes for the item and its location (shelf, row, and level), and then enter information such as the quantity to register it. If location management has not been performed, generate barcodes and affix them to the shelves or similar locations. After all the items and locations have been registered, accurate stock management can be performed just by reading the barcodes during warehousing and when moving items. The data from operations such as warehousing and inventory can be checked in real time, which enables appropriate management.
Inspection of receiving goods
During the inspection of receiving goods, the delivered goods and the delivery slip that was sent together with the goods are verified to check that there are no problems with the product numbers and quantities and the goods are inspected for damage and problems in quality. If the inspection of receiving goods is performed visually, it is inevitable that some items be missed or read incorrectly, that the recording of some items in the ledger be forgotten, or that other similar errors occur. Mistakes that occur at this stage will be carried through to shelving and picking and may finally result in erroneous shipments. Handheld mobile computers can be used in this inspection of receiving goods to eliminate the majority of user-caused errors and thereby prevent erroneous shipments.
Traceabilety
Traceability is a word coined by combining "trace" and "ability."

In traceability, the identification symbol used to transfer the information is called the expression pattern, the item on which data is recorded (such as a label or electronic tag) is called the transfer media, and the item such as a paper ledger or PC used to collect and manage data is called the recording media. The easiest traceability method is to write handwritten notes (the expression pattern) on slips (the transfer media) and rewrite this information in a ledger (the recording media). However, this method is a hassle and is inefficient in recording a large amount of information. Hence, handheld mobile computers and similar devices are most commonly used to read barcodes and 2D codes in order to obtain traceability.
Pokayoke (Error-proofing)
Mechanisms for detecting or preventing the generation of defects caused by careless mistakes, which are unavoidable at manufacturing worksites, is referred to as pokayoke (error-proofing).
There are various causes of careless mistakes at manufacturing worksites. Just a few examples are incorrectly reading product numbers, taking the wrong part, making mistakes in the setting of molds and jigs, and making mistakes in the blending of raw materials. Careless mistakes such as these can be prevented by thoroughly performing verification with handheld mobile computers. This section introduces pokayoke (error-proofing) using handheld mobile computers.
Frequently Asked Questions About Mobile Computers / Handheld Computers
Handheld code readers are a type of barcode reader specialized just for reading (scanning) codes. The readout data should be processed with a connected PC, so handheld code readers cannot be used separately from a PC and carried around like handheld computers.
On the other hand, handheld computers have an LCD screen, CPU, and memory built into the body. Programs can be embedded so that not only can they read data but they can also perform other required processing such as checking (displaying), matching, and saving data. Programs can be rewritten depending on the usage or purpose of the work. For example, you can set which of several information pieces obtained from one reading is to be entered automatically into which rows/columns in Excel.
The installation requires a variety of equipment such as a PC or a server to communicate with during operation, a battery that supplies the power and its charger, and a printer used to output data (when required). It is also necessary to develop software to provide system functions and operability that match the usage environment and the purpose. Examples of issues handled by the software include how to aggregate and process data or how to display the aggregated data on a PC screen.
On the other hand, some handheld computers are designed for simple operations by adopting a common platform, using dedicated software to create business programs quickly, and aggregating data as intended with Excel. Hence, it is important to consider the hardware, software, and other items suitable for the purpose, scale, and existing system, prior to installation.
The different handheld computer models have a wide variety of functions to match varying industries and applications. For example, to establish communication with a system within a large warehouse or store, select a type with a built-in wireless LAN interface. To perform work in a limited space, select a Bluetooth-equipped model.
There are cases in which recent inexpensive smartphones are used instead. This, however, may lead to expensive application development costs. Handheld computers are designed specifically for business purposes so that they can meet various needs in workplaces. Check the specifications such as the reading distance, speed, and accuracy for various codes and optical character recognition (OCR), as well as shock resistance, environmental resistance, and continuous usage time. It is also important to confirm the compatibility, availability, and whether technical support can be obtained or not.
Equipping an operator with the appropriate mobile computer enables them to speed up data collection for many business-critical applications (receiving, storage, inventory, picking, poka-yoke, traceability, shipping, etc.) by minimizing unnecessary trips to a work terminal. Utilizing barcode scanning, where possible, offers a nearly instantaneous data capture method over manual entry or pen & paper systems. Additionally, mobile computers can be connected to your business system to provide operators with immediate feedback and work instructions while they perform their responsibilities.
Adopting the right mobile computer device for your application should cut down on extraneous material and employee movement, lessen the frequency or severity of errors caused by mistakes, and increase overall operator productivity.
Companies of all industries rely on various systems to aid with core business operations. The nature and size of the business often dictate the characteristics of the ideal business system, by functionality and infrastructure. Data system technology is continuously evolving and a mobile computer device with a modern platform can adapt to fit the infrastructure of current or dated systems. From a technical standpoint, mobile computers can integrate into these systems via WLAN (WiFi) configurations with supported web browsers, telnet protocol, and remote desktop protocol (RDP), as well as Bluetooth connection, batch data transfer using a wired connection, or an application-specific embedded "App" on the mobile computer. Consult with your business system support team and mobile computer product expert to select the most effective solution.
To maximize the value of your mobile computer technology, consider the specifications that will best fit your operators' needs. Device evaluation should consider factors that prioritize ease-of-use for the intended use of the mobile computer model. A few of these factors include the device's screen size, form factor, battery capacity, and barcode scanning specifications. Work with a product expert to customize your mobile computer's settings to the best possible configuration, such as restricting access to non-approved work applications on the device or optimizing the barcode scanning performance. Additionally, consider the desired lifespan of the mobile computer to minimize total cost of ownership. Review the mobile computer's durability specifications (max. drop height, tumble rating, and ingress protection rating) and available maintenance packages with the manufacturer to protect your investment. Lastly, train your operators on proper usage.
This website describes basic knowledge about handheld computers and how to use them for each industry and operation. It also introduces installation examples by industry and application. Useful for everyone, from beginners to those considering system improvements.