Handheld Computer in Food / Medicine / Cosmetics Insudtry
This section introduces actual application examples regarding food, medicine, and cosmetics in the manufacturing industry. Actual examples will be used to explain the problems in various food, medicine, and cosmetic processes and the advantages provided by installing handheld computers.
Manufacturing of Food / Medicine / Cosmetics
Food, medicine, and cosmetics must be very safe because they are products that are taken into the body or come into contact with the skin. Food products being past their expiration dates, containing foreign particles, and having packaging defects are all problems that negatively affect the safety of food and must therefore not occur. If these problems occur, the affected products must be recalled immediately. Also, in addition to the strengthening of inspections and management systems, the importance of traceability has increased in recent years. The trend in the food and medicine industries shows that the display standards are getting stronger every year. Examples include the change to a higher degree of strictness for the indication of information such as best before dates, production sites, and ingredients and the unification of distribution codes. This has led to an increased load on manufacturing processes, with the installations of handheld computer systems and the use of barcodes and 2D codes spreading to bring customers safer food, medicine, and cosmetics.
Problems in Manufacturing of Food / Medicine / Cosmetics
At manufacturing worksites for items such as food, medicine, and cosmetics, it is easy for mistakes to occur in receiving order and shipping due to the large number of items that are handled and the large number of similar products. There are also concerns regarding problems such as the wrong raw materials being taken during inventory management, picking, and blending. Furthermore, because not only finished products but raw materials also have best-before dates and expiration dates, thorough management of these dates is absolutely necessary in the manufacturing of food, medicine, and cosmetics. A single mistake can lead to a product recall, which not only generates major losses but can also greatly damage the brand image.
Solving Problems by Installing Handheld Computers
Installing handheld computers is an effective solution for eliminating problems such as mistakes in order reception and placement and taking the wrong items. Handheld computers can be used in manufacturing processes to accurately search for products, which can prevent mistakes in the preparation of raw materials in various processes. Also, thoroughly managing raw materials leads to reduced disposal loss. Regarding product delivery, using handheld computers not only allows for product management but also leads to traceability, which makes it possible to prevent the placement of orders for products such as those with expired best-before dates. Even if defective products are released, the target lot can be identified and recalled.
Typical Processes and Manufacturing Flow
This section explains detailed handheld computer installation examples grouped by process during the manufacturing of food / medicine / cosmetics. The typical processes and manufacturing flow for food / medicine / cosmetics are shown below.
Advantages Provided by Installing Handheld Computers in Various Processes
This section explains the advantages of installing handheld computers and actual application examples for the typical processes listed above.
Receiving
Normally, slips are checked visually for the inspections of raw materials, but similar product numbers, product names, and other such information can lead to mistakes. Handheld computers enable mistake-free receiving work by reading barcodes and similar information provided with the raw materials. This makes it possible to eliminate operator entry of data and to automatically convert receiving results to data, which is effective in preventing careless mistakes. Also, when handheld computers are used on a manufacturing line, inventory is moved automatically, which enables appropriate inventory management.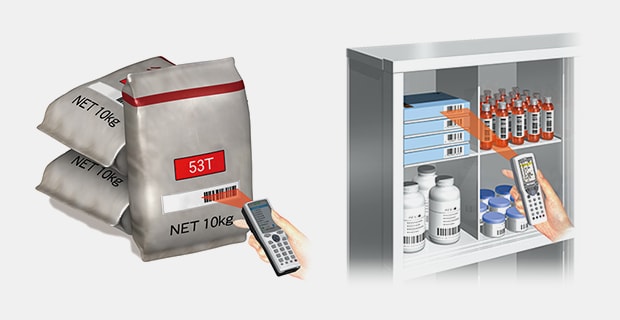 Raw Material Warehousing
If mistakes occur in inspections performed visually or otherwise during warehousing or if products are placed on the wrong shelves, confusion will arise when an operator attempts to pick the raw materials required for the manufacturing line, and the subsequent processes will be greatly delayed. By using handheld computers and barcodes to associate product information with shelf information, this work can be made faster and more accurate. Also, handheld computers generate warnings when raw materials have exceeded their best-before dates, which prevents these materials from being supplied to the worksite by mistake.
Blending
For food / medicine / cosmetics, blending mistakes can occur due to the wrong raw materials being taken. Handheld computers can be used to read barcodes and check the raw materials and recipe before blending. Also, overall operation management, recipe checks, and insertion checks can be performed in real time, which makes it possible to handle problems as soon as they occur, thereby preventing delays in postprocessing. In addition, it is possible to check best-before dates during blending, manage the status of consumables and equipment, and associate and manage a large number of items related to manufacturing.
Filling
Handheld computers can be used to greatly improve the efficiency of lot number management, process management, and traceability in the filling process. Also, if an error occurs during the marking of labels, handheld computers will generate a warning when scanning said labels.
Inspection / Packing
The shipping lot reversal phenomenon is likely to occur due to issues such as inventory management not being carried out thoroughly in the manufacturing of food / medicine / cosmetics. However, if handheld computers are installed, the shipping lot history of each customer can be managed in an appropriate manner, which makes it possible to avoid the above situation before it happens. Conversely, customer requests for the delivery of products with a later best-before date can be handled quickly, which leads to improved customer satisfaction.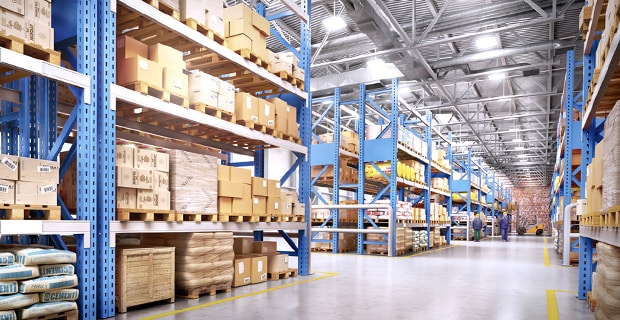 Finished Product Warehouse
Installing handheld computers in a finished product warehouse can prevent shipping mistakes because barcodes and 2D codes can be affixed to packaging for verification against the shelf numbers where products are stored in the warehouse. Handheld computers also greatly improve the efficiency of inventory management. Reading the best-before date data within the warehouse enables straightforward first in, first out operation, which reduces wasted costs, time, and effort.