Digital Microscopes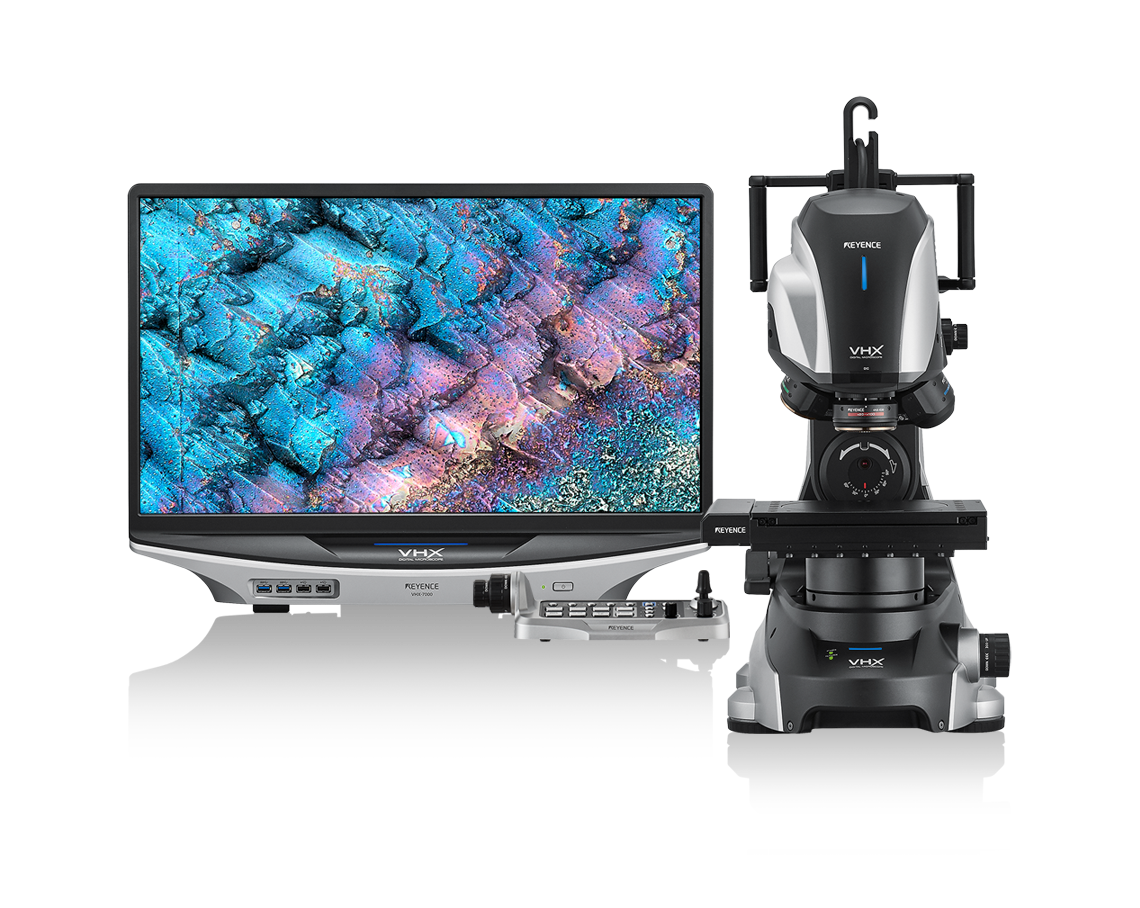 Observe your target from any angle, capture 4K high-resolution images, and perform advanced measurements - all with a single device. Our VHX Series Digital Microscope is highly trusted, and has been adopted by over 20,000 companies.
Product Lineup
The VHX-7000 Series is a fully-automated digital microscope system that enables even novice users to capture high-resolution images that rival an SEM. The Optical Shadow Effect Mode features a combination of specially designed high-resolution lenses, a 4K CMOS, and high-performance lighting that enables minute surface details to be observed and analyzed. The seamless transition in magnification from 20x to 6000x using a motorized turret offers a stress-free observation environment. The VHX-7000 Series 4K industrial digital microscope offers the highest level of automation and best picture quality in the VHX Series. All these features and more add up to make it the best digital microscope on the market.
Features
Visualize Texture Previously Unseen by Optical Microscopes
High-definition imaging makes it possible to observe subtle contours and uneven surfaces or stains that were previously impossible to view.
Optical Shadow Effect Mode
4K Fully-Integrated Head
Wide-variety of 2D and 3D Measurements
Multiple images of a surface can be captured at different Z-planes, making it possible to collect a fully-focused 3D image of the target that can be used to perform 3D measurements.
Particle counting, grain size analysis, and contamination analysis can be automatically calculated, ensuring even novice users can perform complex measurements correctly.
3D measurement
Contamination analysis compliant with ISO 16232 and VDA 19
The VHX-F Series is an all-in-one system for observing, capturing images, and measuring. This entry model offers several features that make observation and analysis faster and more accurate than conventional optical microscopes. The 20x larger depth of field and free-angle observation allow samples to be observed and imaged from any angle. Despite being an entry-level model, the VHX-F Series is also equipped with multi-lighting, depth composition, and 3D imaging that produces fully-focused images, even on objects with uneven surfaces.
The VH lens series features high-performance lenses that bring the best observation and imaging out of microscopes. Our lenses have an exceptionally high numerical aperture, up to 0.9, and in combination with the 4K CMOS can identify features as small as 210 nm. To meet all observation needs, KEYENCE's lens lineup includes a high-resolution head & lens combo equipped with a 20x to 6000x zoom function, an ultra-small, high-performance zoom lens that supports handheld observation, and a universal lens that achieves brightfield, darkfield, polarized, and differential interference contrast observation with just one unit.
Digital microscopes use a camera and magnified optics to output a live image to a monitor. From the monitor, the image can be observed, captured, saved, measured, and analyzed. Unlike traditional optical microscopes, digital microscopes do not have eyepieces, and multiple people can observe the image at the same time.
Benefits of Digital Microscopes
Compared to optical microscopes, digital microscopes have a much larger depth of field.
The depth of field is the z-range that is in focus at one time.
A deep depth of field makes observation easier because the entire sample can be viewed without adjusting the lens or stage. A deep depth of field is especially advantageous when viewing samples with uneven surfaces or large changes in height across the surface.
Digital microscopes offer a larger working distance (WD) than optical microscopes. The working distance is the distance from the end of the lens to the target when the target is in focus.
The longer the working distance, the farther into the target the user can observe. Even when the lens is tilted for observation purposes, the lens does not come into contact with the sample. This is especially useful when working with samples that have large changes in height or have features on different Z planes.
Most optical microscopes use a revolver for switching between the objective lenses to change the magnification.
On the other hand, 3D digital microscopes commonly use a zoom lens that the user merely needs to turn the zoom ring in order to change the lens magnification.
With the revolver, if the working distance differs among the lenses, the user must adjust the stage and focus every time the magnification is changed. With zoom lenses, the working distance remains constant, so users can change magnification while still keeping the sample in focus.
Digital Microscopes Case Studies
Automotive and Aerospace Industries
Electronic Device Industry
Medical Device and Cosmetics Industries
Chemical and Materials Industries
Analysis of Fractured Metal Surfaces
Observation, Measurement, and Evaluation of Skin and Hair
Observation of Metal Structures
Observation and Analysis of Microorganisms
Polarized Light Observation for High-Resolution Imaging of Minerals
Observation and Measurement of Semiconductor Wafers and IC Designs
Frequently Asked Questions About Digital Microscopes
Digital microscopes are used to observe, inspect, and analyze samples of nearly any size. Digital microscopes are often used as a solution when needs cannot be met by optical microscopes or SEMs. A wide range of industries including electronics, medical devices, materials research, and automotive all use 3D digital microscopes. More information on applications for each industry can be seen on our Application Examples Page.
Digital microscopes from KEYENCE continue to be the best solution on the market. KEYENCE created the first digital microscope over 20 years ago, and continuously implements direct feedback from customers into subsequent generations of scientific digital microscopes. This enables KEYENCE to always be on the bleeding edge, providing products that solve real problems that users face.
Digital microscopes, compound microscopes, stereoscopes, metallurgical microscopes, and polarizing microscopes are all commonly used. While the latter four types of microscopes each have a special designated purpose, a digital microscope combines all of these functions into one device, enabling faster throughput and a more efficient workflow.
A digital microscope is equipped with a high-precision digital camera that captures images of the target, which are displayed on the monitor for observation. A stereoscopic microscope has two eyepieces―one for each eye―for observing the image that appears through the lenses. The magnification range of a digital microscope is several tens to thousands times while that of a stereoscopic microscope is only ten to several tens times. A stereoscopic microscope also needs adjustments based on personal differences such as distance between the eyes and visual capability.
Generally speaking, a digital microscope is suitable for long hours of observation, positioning, and dimensional measurement. A digital microscope is also capable of saving images to an HDD as well as image processing and analysis using digital tools. A stereoscopic microscope, on the other hand, has a wider field of view and a longer working distance, and thus it is used for assembling and inspecting precision parts as well as for dissection and cell manipulation.
KEYENCE has been making digital microscopes for over 20 years. We continuously apply the feedback from our customers in the creation of subsequent generations of products. This enables us to always provide products that solve real problems that users face. The digital microscopes in the VHX Series have been designed to compensate for the weak points of conventional optical microscopes such as shallow depth of field, short working distance, problems with portability and versatility, and limitations on samples.
Compared to other types of microscopes, digital microscopes are characterized by their high observation functionality and ease of use that is independent of the user's skill level. However, the required performance is quite different, as is the price of the microscope, depending on whether you are using it for personal observation, quality control in manufacturing, or observation for research. Here, we introduce key points to consider when selecting a digital microscope that is suitable for your intended application.
Magnification and field of view (observation range)
The optical magnification of a stereoscopic microscope can be calculated by multiplying the magnification of the objective lens by that of the eyepiece. In the case of digital microscopes, because images are observed on a screen, the magnification is the product of the lens' optical magnification and the monitor display size. This magnification is called the total magnification, which can be calculated with the following formula:
Total magnification = Monitor magnification x Optical magnification
The optical magnification is indicated by the lens scale. The monitor magnification differs depending on the image sensor and monitor size, and can be calculated with the following formula:
Monitor magnification = (Monitor size in inches x 16*) / Size of image sensor*
* Optical inch size
Conversely, the size of the field of view (observation range) is inversely proportional to the total magnification. For example, consider a magnification of 50x with a 10 x 6 mm area displayed on the monitor. If the magnification is increased to 100x or 200x, the field of view displayed on the monitor decreases to 5 x 3 mm or 2.5 x 1.5 mm, respectively. As shown in this example, while increasing magnification can enlarge the image for better viewing of details, it also narrows the field of view.
A digital microscope has objective magnification, total magnification, and monitor magnification, which means that when selecting a magnification, you must be aware which of these is indicated in catalogs and which part of the observation object you want to study in an enlarged view. Then, you can select the digital microscope with the magnification and field of view that matches your needs.
Illumination method
When using digital microscopes, you can encounter unclear views of objects despite using a high-performance lens if the lighting is not appropriate. To solve this problem, it is important to choose the type of lighting that suits the object to be observed.
There are four major types of illumination, and this section explains the characteristics and advantages of each type.
Coaxial illumination
A: Lens, B: Light source, C: Half mirror, D: Object
Coaxial lighting travels in the same direction as the optical path of the lens. With coaxial illumination, the optical axis of the light emitted onto the object and that of the lens are aligned with a half mirror. This mode of illumination is used for observation of mirrored metal surfaces, smooth plastic surfaces, and objects that specularly reflect light, such as semiconductor wafers, as well as when observing differences in structure or surface gloss instead of features.
Ring illumination
A: Lens, B: Object
Ring lighting is emitted diagonally from both sides of the lens. This mode of illumination allows for clear capture of contours due to the contrast created by surface features. It is primarily used at magnifications from 50x to 300x for observing objects with rough surfaces or objects with no gloss or luster.
Transmitted illumination
A: Lens, B: Glass plate, C: Object, D: Light source
With transmitted lighting, light from beneath a transparent target and passes through the lens into the image sensor. For this reason, lenses with a large depth of field are suitable considering the thickness of targets. This mode of illumination is used for observation of features within a transparent object, emulsions in liquids, and microorganisms.
Variable illumination
The direction of light can be changed in real time to emphasize the status of features. Light is emitted onto the target and can be adjusted in real time, allowing for observation of fine features.
Monitor display
One of the most useful features of digital microscopes is that more than one person can look at the microscopic image at the same time. This allows for capturing parts of interest as videos and displaying detailed parts on a monitor for visual checking by multiple people, which can facilitate quick sharing of problems.
The resolution of the monitor can vary from around 2 megapixels to 10 megapixels and up. It is important to select the resolution according to the purpose, along with the selection of magnification and field of view (observation range).
Recording/measurement function
Sharing observation data acquired with a digital microscope between different departments for analysis and review requires functionality that supports large storage capacity and networking. Some key factors to consider include whether observation images can be saved, whether measurement magnification and lighting settings can be saved, and the availability of analysis software that measures profiles, areas, and counts from observation data.
Example: contamination analysis
Characteristics of KEYENCE microscopes
KEYENCE's digital integrated microscopes use a telecentric HR lens, a 4K CMOS image sensor, and a 27-inch 4K monitor. The combination of a high-resolution, large depth of field lens, a high-definition, low-noise image sensor, and a large 4K monitor allows for observation with a wide field of view at high magnifications.
For lighting, KEYENCE's digital microscopes are equipped with a multi-lighting function that automatically applies the optimal lighting pattern. With just one click of a button, the operator can automatically obtain omnidirectional lighting data and select the image that is most suitable for observation.
Saving on-screen images, measurement results, and observation settings is also only one click of a button away. Saved data can quickly be shared throughout your company via a network connection. Reports can be created by installing spreadsheet and word-processing software.
KEYENCE's digital microscopes are a one-stop solution that not only eliminate burdensome lighting setups while achieving high-resolution observations and high-quality display, but also provide analytical and reporting functions for data sharing and report submission.
Telecentric HR lens with high NA and high resolution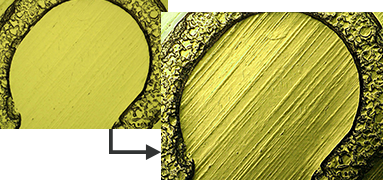 Multi-lighting observation (polished metal surface 1000x)
We have led the way in industrial automation and inspection equipment since 1974. Our commitment to advanced technology and meeting our customers' needs have elevated us to a leadership position in the marketplace. If you're ready to buy digital microscopes from the recognized leader in the field, browse our catalog and get in touch today.
The basic principles and main types of microscopes are explained, including typical performance, illumination method, and observation method.
This guide explains the limitations of 4 major types of microscopes and how digital microscope will solve these limitations.
This guide shows the customers' voices about the reasons for switching from optical microscopes to digital microscopes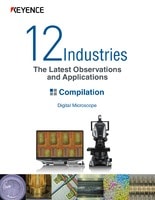 This guide explains the latest digital microscope application across 12 industries such as Battery, Connector, Semiconductor, Chemical, Food and Pharmaceutical, Automotive andAerospace, Print, and more.