Quick Delivery and Comprehensive Support
Most products are in stock and ready for same-day shipping - contact us to get your order started
Digital Microscopes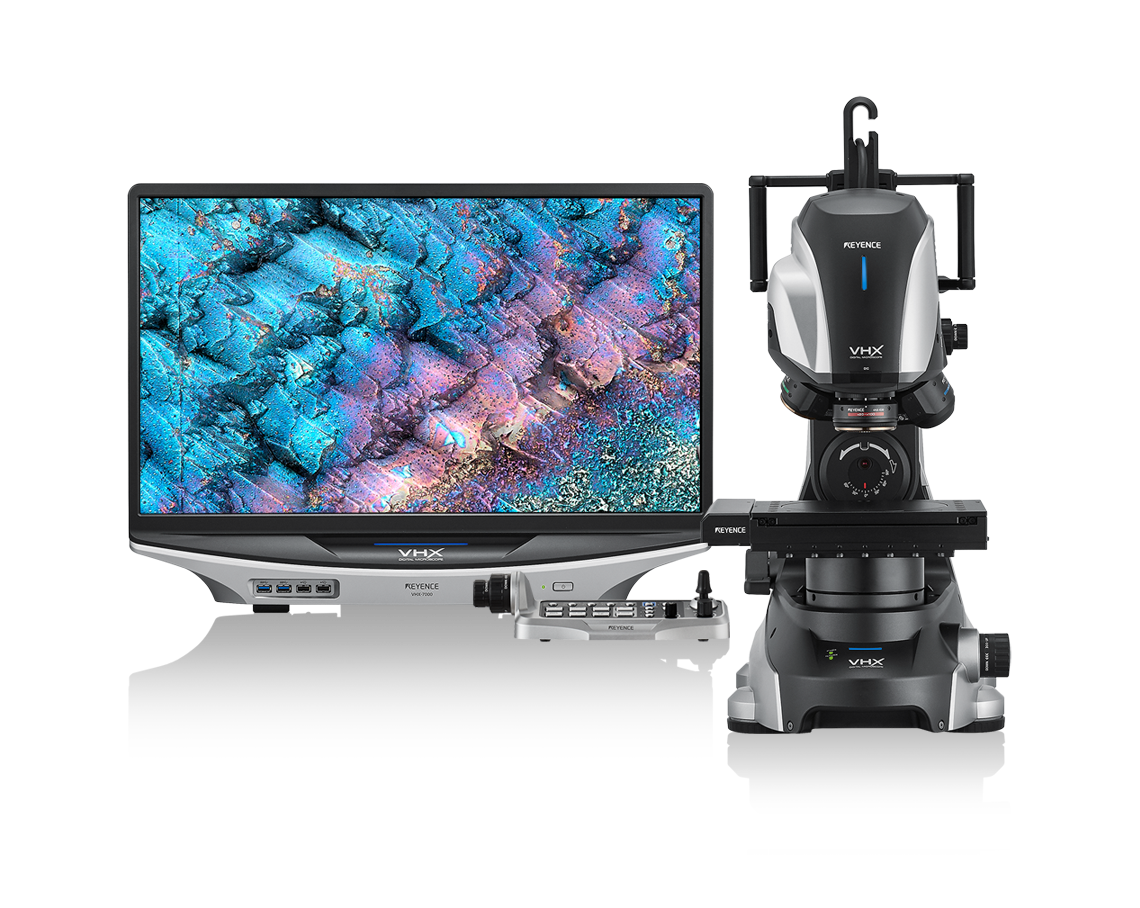 A microscope that can observe uneven surfaces and 3D objects with clear images thanks to its large depth of field and long observation distance. Together with a model that uses a full control system to provide high-resolution observation that rivals an SEM, this lineup includes entry models equipped with frequently used functions. Dedicated lenses that bring out the best performance of microscopes are also available.
Lineup
The VHX-7000 Series is a fully-automated system that enables even novice users to capture high-resolution images that rival an SEM. The Optical Shadow Effect Mode features a combination of specially designed high-resolution lenses, a 4K CMOS, and high-performance lighting that enables minute surface details to be observed and analyzed. The seamless transition in magnification from 20x to 6000x using a motorized turret offers a stress-free observation environment. The VHX-7000 Series 4K digital microscope offers the highest level of automation and best picture quality in the VHX Series.
The VHX-F Series is an all-in-one system for observing, capturing images, and measuring. This entry model offers several features that make observation and analysis faster and more accurate than conventional optical microscopes. The 20x larger depth of field and free-angle observation allow samples to be observed and imaged from any angle. Despite being an entry-level model, the VHX-F Series is also equipped with multi-lighting, depth composition, and 3D imaging that produces fully-focused images, even on objects with uneven surfaces.
The VH lens series features high-performance lenses that bring the best observation and imaging out of microscopes. Our lenses have an exceptionally high numerical aperture, up to 0.9, and in combination with the 4K CMOS can identify features as small as 210 nm. To meet all observation needs, KEYENCE's lens lineup includes a high-resolution head & lens combo equipped with a 20x to 6000x zoom function, an ultra-small, high-performance zoom lens that supports handheld observation, and a universal lens that achieves brightfield, darkfield, polarized, and differential interference contrast observation with just one unit.
Digital microscopes use a camera and magnified optics to output a live image to a monitor. From the monitor, the image can be observed, captured, saved, measured, and analyzed. Unlike traditional optical microscopes, digital microscopes do not have eyepieces, and multiple people can observe the image at the same time.
Benefits of Digital Microscopes
Compared to optical micrsocope, digital microscopes have a much larger depth of field.
The depth of field is the z-range that is in focus at one time.
A deep depth of field makes observation easier because the entire sample can be viewed without adjusting the lens or stage. A deep depth of field is especially advantageous when viewing samples with uneven surfaces or large changes in height across the surface.
Digital microscopes offer a larger working distance (WD) than optical microscopes. The working distance is the distance from the end of the lens to the target when the target is in focus.
The longer the working distance, the farther into the target the user can observe. Even when the lens is tilted for observation purposes, the lens does not come into contact with the sample. This is especially useful when working with samples that have large changes in height or have features on different Z planes.
Most optical microscopes use a revolver for switching between the objective lenses to change the magnification.
On the other hand, digital microscopes commonly use a zoom lens that the user merely needs to turn the zoom ring in order to change the lens magnification.
With the revolver, if the working distance differs among the lenses, the user must adjust the stage and focus every time the magnification is changed. With zoom lenses, the working distance remains constant, so users can change magnification while still keeping the sample in focus.
Digital Microscopes Case Studies
Automotive and Aerospace Industries
Electronic Device Industry
Medical Device and Cosmetics Industries
Chemical and Materials Industries
Frequently Asked Questions About Digital Microscopes
Digital microscopes are used to observe, inspect, and analyze samples of nearly any size. Digital microscopes are often used as a solution when needs cannot be met by optical microscopes or SEMs. A wide range of industries including electronics, medical devices, materials research, and automotive all use digital microscopes. More information on applications for each industry can be seen on our Application Examples Page.
Digital microscopes from KEYENCE continue to be the best solution on the market. KEYENCE created the first digital microscope over 20 years ago, and continuously implements direct feedback from customers into subsequent generations of digital microscopes. This enables KEYENCE to always be on the bleeding edge, providing products that solve real problems that users face.
Digital microscopes, compound microscopes, stereoscopes, metallurgical microscopes, and polarizing microscopes are all commonly used. While the latter four types of microscopes each have a special designated purpose, a digital microscope combines all of these functions into one device, enabling faster throughput and a more efficient workflow.
Industry-leading functionality
Since starting on the journey to find solutions to the limitations of microscopes over 20 years ago, KEYENCE has made possible numerous "impossibles", while keeping at heart the same basic concept of continuous improvement. The resulting improvements have earned us a strong reputation, with over 20,000 companies using our microscopes.
Enhanced observation
The large depth of field and free-angle observation achieve incomparable inspection and analysis.
Automatic measurement
A single click initiates automatic measurement of features and areas. Our software features assist tools to automatically extract edges, ensuring repeatable results.
Advanced imaging functions
The VHX Series features a surface rendering ability comparable to that of SEMs, visualizing what is impossible with normal microscopes.
The basic principles and main types of microscopes are explained, including typical performance, illumination method, and observation method.