Digital Microscope
VHX-7000 series
Digital Microscope
VHX-7000 series
The World's First 4K Ultra-High Accuracy Microscope
View, capture and measure with an all-in-one system
Delivering images that rival an SEM
Highest definition in the history of microscopes
Even novice users can capture optimal images
The VHX-7000 Series is a fully-automated digital microscope system that enables even novice users to capture high-resolution images that rival an SEM. The Optical Shadow Effect Mode features a combination of specially designed high-resolution lenses, a 4K CMOS, and high-performance lighting that enables minute surface details to be observed and analyzed. The seamless transition in magnification from 20x to 6000x using a motorized turret offers a stress-free observation environment. The VHX-7000 Series 4K industrial digital microscope offers the highest level of automation and best picture quality in the VHX Series. All these features and more add up to make it the best digital microscope on the market.
Features
Delivering Images That Rival an SEM
Optical Shadow Effect Mode
By combining a 4K CMOS image sensor with new illumination techniques, KEYENCE has achieved a new way to observe samples.
Highest Definition in the History of Digital Microscopes
4K Fully-Integrated Head
Thanks to a 4K CMOS image sensor and a newly developed optical system, the VHX-7000 combines a large depth of field with high resolution.
A wide range of observation modes—including Bright-field, Dark-field, Polarized Light, Differential Interference Contrast (DIC) and more—are covered, enabling automatic handling of all sorts of targets.
Full-Control System Enables Even Novice Users to Capture Optimal Images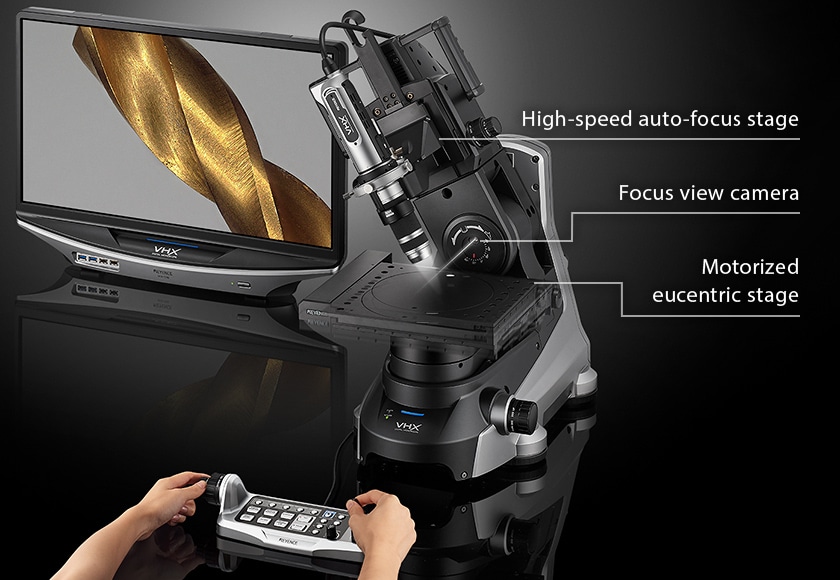 Advanced Operability
The user simply places the target on the stage, and everything else – including alignment, focus adjustment, magnification switching and so on – is fully automatic.
Even first-time users can perform observation perfectly on the desired area, with no stress at all. This is thanks to the ergonomic design of this microscope, which enables operators to sit comfortably for extended periods without placing as much strain on the neck. In addition, it can be tilted from 0 to 90 degrees to capture the image from multiple angles for greater versatility. This digital microscope with a screen makes it easy for users to see details clearly, as well as save images in high resolution to share with others. The simplicity of its operation means there is virtually no learning curve for users to jump right in and begin capturing images.
Applications: Observation
This 4K microscope offers exceptional performance across a wide range of applications for various industries. For instance, this digital microscope can serve a crucial role in assembly, research, documentation, production, quality control, and failure analysis among other functions. The sectors that can benefit from this ultra-HD digital microscope include microelectronics, medical, pharmaceutical, machining, aerospace, and natural science.