Flow Sensors / Flow Meters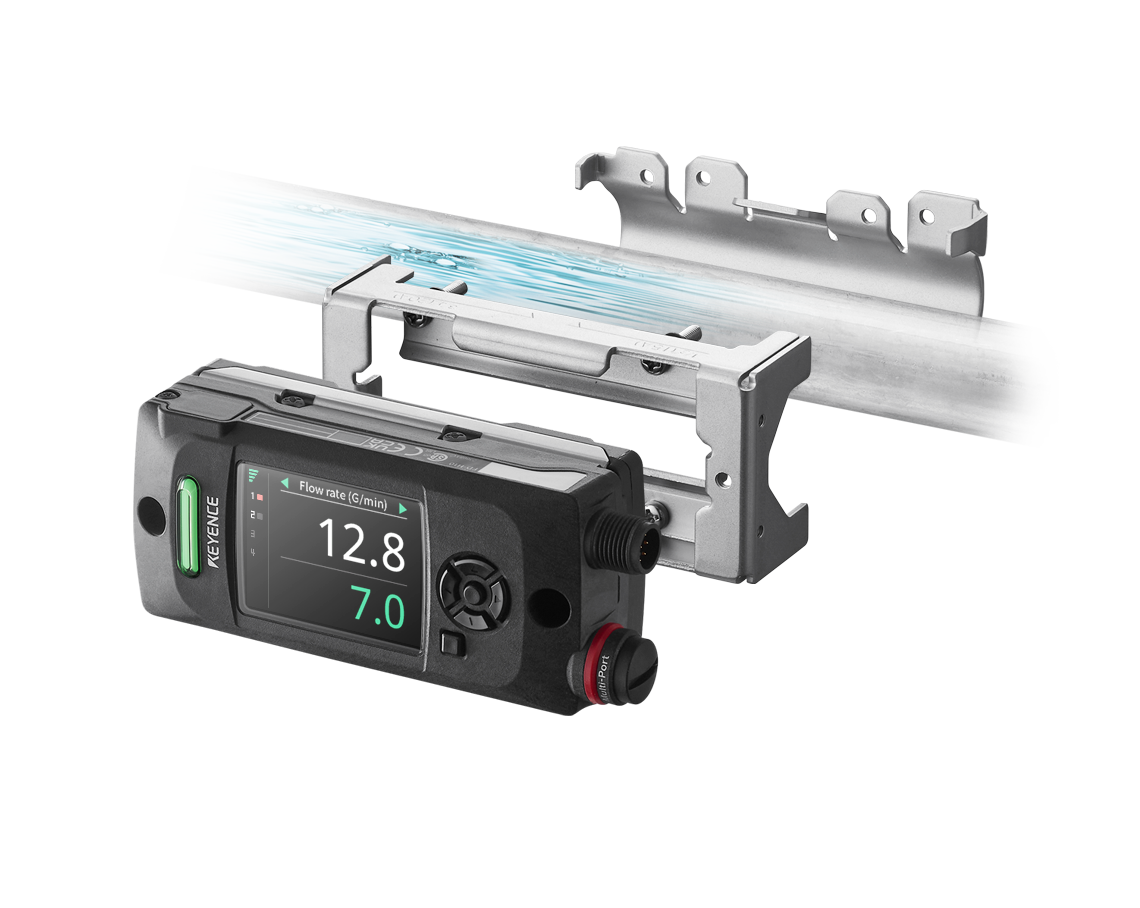 A flow sensor/meter for liquid and gas. KEYENCE has developed various clamp-on types to enable stable flow rate measurement with no pipe modification. These devices can be used on small tubes to large pipes. The lineup also includes electromagnetic and Coriolis flow sensors as well as environmental resistant and sanitary types.
Product Lineup : Liquid Flow Rate
Product Lineup : Gas Flow Rate
The compact case of the FD-EP Series houses a flow sensor and a pressure sensor, making it easy to diagnose the status of pneumatic equipment. The specialized application makes predictive maintenance of cylinders, suction transferring, seating, and air blowers easy and allows for real-time diagnosis. The free flowing structure prevents pressure loss and clogging and supports small and large flows. When selecting the sensor, just choose the one that matches your tube diameter. The high-definition display allows for intuitive operation with no need for an instruction manual. This one device can handle applications in which gases flow forward and backward such as cylinder forward and backward motion and the suctioning and vacuum destruction during suction transferring.
Features
Dual Sensing of Flow and Pressure
Air pressure and air flow in a single unit opens up full understanding of pneumatic equipment on the machine. Knowing pressure and air flow at the same time allows us to predict component failures before unexpected downtime occurs. With 4 built-in application modes programmed into the sensor, increased machine uptime will be more achievable.
Pressure × Flow
Zero Risk of Clogging
The FD-EP Series has a free flowing structure with no protrusions or obstructions in the flow path. Therefore, there is no need to worry about clogging or pressure loss caused by the flow sensor itself. The ease of installation and increased longevity will lead to increased uptime.
Conventional Unit
Pressure loss and clogging caused due to rectifier mesh plate inside.
FD-EP Series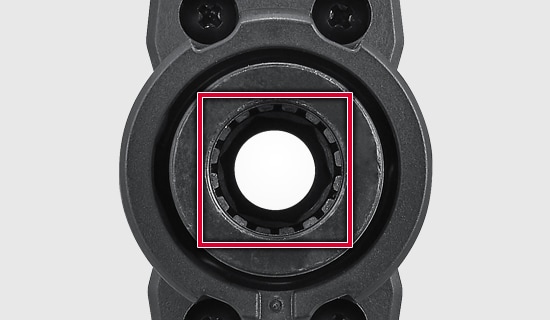 Free flowing structure
There are no protrusions or obstructions that can cause pressure loss or clogging.
The FD-EC Series Clamp-on Gas Flow Sensor easily attaches to the outside of a tube, eliminating problems such as pressure loss and clogging and allowing for an uninterrupted supply of air during sensor installation. It can measure small and large flows and is compatible with various tube materials. When selecting the sensor, just choose the one that matches your tube diameter. The high-definition display allows for intuitive operation via the display amplifier, and diagnostic mode makes it possible to check the status while the sensor is attached to the tube. This sensor can detect gases regardless of the direction they flow, allowing for installations that fit the existing device layout.
Features
Zero Installation Risk
The FD-EC Series is free from all risks associated with conventional flow sensor installation, such as pressure loss, clogging, air leakage, or contamination. Also, because there is no need to cut tubes, the air supply does not need to be temporarily shut off during installation.
Clogs due to multi-layer mesh structure
Leaks from coupling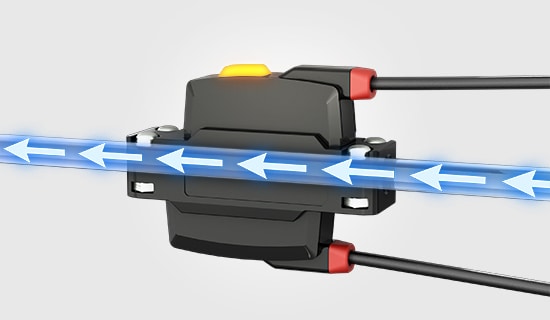 Zero risk of pressure loss, clogging or contamination
Zero air leakage
Ultra-Compact and Ultra-Lightweight
Air tubes are often thin, with limited space between tubes. The FD-EC Series is ultra-compact and clamps on for easy installation anywhere. The ultra-lightweight body also eliminates the need for mounting brackets.
Limited space mounting is possible.
The FD-G Series Clamp-on Gas Flow Meter can be easily installed from outside the pipe with only a screwdriver. The clamp-on design greatly reduces installation costs by eliminating the need for pipe modification. Detecting flow from outside the pipe eliminates the risk of restricting or blocking the flow of gas. It also eliminates the risk of leakage from new fittings. The device is compatible with stainless steel and iron pipes from—3/4" to 8"—and can measure compressed air, nitrogen, and other gases. The high-accuracy measurement, paired with a minimum sensitivity of 0.018 CFM, can be utilized for both large flows and incredibly small leaks. The high-definition display can also show both the total flow rate and the current flow rate for a set period, at the same time. Necessary functions for air management are also included, such as automatic leak volume measurement and monetary conversion.
Features
Optimize Compressed Air Usage
Determine a baseline for air usage at your facility
Monitor specific machine drop points or branch pipes
Identify cost-saving actions such as replacing valves, optimizing your compressor's loading period, or patching leaks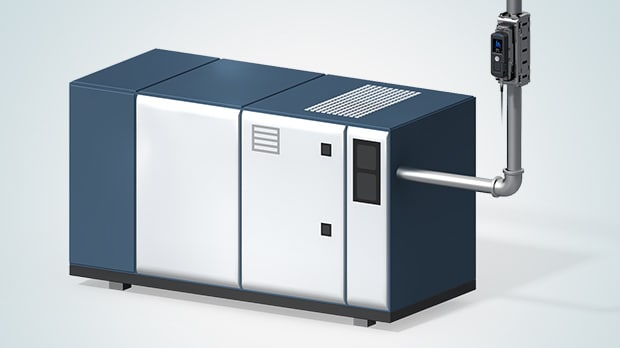 Simple Clamp-On Installation
Mount in minutes with no special tools or knowledge
Completely non-invasive flow meter design means no added leakage points
Compatible pipe sizes include

0.75"-8"
Product Lineup : Air Quality Multi-Sensor
MP-F Series Energy-saving Unit for Gases simultaneously senses the flow, pressure, temperature, and humidity of air to visualize energy consumption with the connected power monitor. This unit is equipped with a function that automatically records the air and electricity consumption (data that is vital when attempting to reduce energy consumption) at all times. The stored data can then be checked on the highly expressive multi display. Also, data can be analyzed easily with the specialized PC software. The shut-off valve is an energy-saving feature that eliminates unnecessary air consumption by blocking air when the device is not operating. This unit monitors the air status to detect problems such as pressure drops and condensation before they occur and notify the user of these errors.
Features
Small Body Contains Multiple Sensors
Complete machine air understanding is provided when utilizing the dynamic MP-F multi-sensor. Offering a better understanding of the air quality that your pneumatic equipment is receiving allows for more stable machine operation, improved product quality, and cost savings.
1

Humidity sensor

2

Flow/Temperature sensor

3

Pressure sensor
Easily Visualize Consumption
The MP-F Series has multiple ways of gathering data needed to make cost effective decisions. The easy to read and navigate display offers a quick and complete understanding of machine air allowing for easy troubleshooting. Long-term data can also be downloaded from the device itself with a standard USB cable to a laptop.
Flow meters, also known as flow sensors, are used to measure the flow rate of a liquid or gas. There are a variety of different types of flow meters, including ultrasonic, electromagnetic, Karman vortex, paddlewheel, floating element, thermal, and differential pressure types. Flow meters that require no moving parts in contact with the target liquid are particularly effective in avoiding potential problems. For example, ultrasonic meters—also known as clamp-on systems—can be installed from outside the pipe for completely non-wetted measurement, preventing any risk of adverse effects on the liquid and eliminating the need for piping work. Electromagnetic meters detect flow via electromotive force created through electromagnetic induction. Models that use an electrode outside the water outlet are most effective. Meters that use the Coriolis method measure the backward force created by the flow of liquid through an oscillating U-shaped pipe. Alternatively, thermal meters measure the flow rate by looking at the amount of heat the liquid removes from a heating element.
Benefits of Flow Sensors / Flow Meters
The manufacturing of products can involve a wide variety of liquids. To ensure quality control, the liquid is monitored using a flow meter and then managed/analyzed accordingly to improve or stabilize product quality. Understanding the different types of flow meters plays an important role in performing sufficient fluid management and analysis.
Using a flow meter for managing liquid flow enables data acquisition for alarms, diagnosis, and analysis. It also allows for management of minute flow rates such as equipment discharge and spray volumes, and management of air, nitrogen, or argon gas supplies based on instantaneous and total flow rates. Flow meters equipped with an analog output can respond flexibly to control and manage needs by transmitting alarm output and diagnostic/analysis data to a PLC or PC. Clamp-on flow meters, which use non-wetted methods that do not adversely affect the liquid, are also capable of measuring very low flow rates at high speeds. This is often necessary for controlling release agent, disinfectant alcohol, and flux application amounts. Mass flow sensors are not easily affected by temperature or pressure, making them suitable for the management of gases.
Flow control using a flow meter enables both predictive maintenance and superior device protection, such as when an optimum temperature range is specified or a correct amount must be used for cooling water circulation. Flow control makes it possible to prevent any deterioration in quality or malfunctions with equipment due to improper cooling.
Quick detection of a decrease in flow rate makes it possible to immediately perform predictive maintenance to avoid adverse effects on production or equipment. This means flow control using a flow meter is essential. A flow meter with two outputs enables the output of both a predictive alarm and the main alarm for proper maintenance before jigs or equipment becomes damaged. Monitoring the conditions of filters and strainers is also important for detecting clogs that may reduce flow. In other cases, bent or clogged pipes may not show a change in pressure, only a decrease in the flow rate. Using a flow meter in addition to a pressure sensor makes it possible to detect problems in the piping quickly for immediate response.
Manufacturing sites often use argon gas for welding, nitrogen gas for oxidation-prevention and heat treatment, and various other resources such as hydraulic oil and coolant. Using a flow meter for flow control makes it possible to visualize the amounts of resources used and to conserve energy (which reduces costs).
Flow meters capable of managing instantaneous and total flow rates simultaneously can detect abnormal flows. These devices can also gather data to determine possible reductions in the consumption amounts based on per-hour usage. Also, if the flow meter has no moving internal components, reductions in pressure due to clogging or other problems can be eliminated, contributing to greater energy conservation with no unnecessary load on pumps. Clamp-on flow meters can also be installed without having to cut piping, eliminating the risk of liquid and air leakages due to added pipe seams.
Flow Sensor / Flow Meter Case Studies
Equipment requiring liquid management (coolant, cleaning fluid)
Equipment requiring liquid management and flow monitoring include injection molding machines (mold coolant flow control), die-casting machines (coolant and mold release agent flow control), grinding machines and cutting machines (coolant flow control), sputtering systems (coolant flow control), and spot welding machines (coolant flow control). Using an applicable flow meter or flow sensor for flow management stabilizes product quality and prevents potential problems with equipment.
Equipment requiring liquid management (oil, coating solutions, chemical solutions, etc.)
Because liquid flow rates and process management are closely intertwined, flow meters and flow sensors are also useful in controlling the flow of liquids other than coolant and cleaning fluid. For example, flow control is also necessary with high-frequency quenching equipment (quenching fluid flow control), lapping/polishing/CMP equipment (slurry), dispensing equipment (flux, hot-melt, ink, grease, adhesives, painting solutions, coating agents, resist solutions, mold release agents, etc.), precision presses (lubricant, etc.), two-component mixers (pre- and post-curing agent liquids, water, printing paint, chemicals, emulsions, adhesives, etc.), cutting machines (for checking cutting oil amounts, etc.), concrete mixers and manufacturing equipment (water volume being mixed with materials), and flue gas neutralization equipment (water and chemical solutions used during smoke evacuation).
Equipment requiring gas flow control (nitrogen, oxygen, air, etc.)
Flow meters and flow sensors are used in processes and machines requiring the flow control of gases such as nitrogen, oxygen, and air. This includes reflow furnaces (nitrogen (N2) flow control to prevent oxidation), quenching furnaces (nitrogen (N2) supply control to prevent oxidation), chip component conveyors (for checking airflow during chip component absorption), electronic component packages (management of enclosed gas (nitrogen) to prevent oxidation), ionizers (air purge flow control), and painting robots (paint (liquid) and air (gas) management).
Frequently Asked Questions About Flow Sensors / Flow Meters
Air bubbles can enter the pipe with the liquid or be formed in the pipe due to impurities or other factors. Bubbles can cause Karman vortices to occur in vortex flow meters, and ultrasonic wave propagation can be obstructed in conventional ultrasonic flow meters, causing the flow meter to malfunction. Generally speaking, flow rates can be measured with no effects from air bubbles when using a meter that measures using the Coriolis method. In recent years, ultrasonic wave flow meters have also begun using stronger ultrasonic signals to ensure adequate signal propagation, even if bubbles are generated. Some ultrasonic flow meters are also able to cancel out the effects of air bubbles or to generate an alarm if air bubbles are detected.
For flow meters that use a standard wetted electrode, insulating deposits inside the pipe can make measurement impossible. Conventional electromagnetic flow meters are also prone to such problems. Flow meters that use capacitive detection with electrodes on the outside of the pipe are effective at preventing these kinds of adverse effects. Fully penetrating electromagnetic flow meters detect liquid from outside the pipe, allowing for stable detection even if the pipe is covered with insulating deposits. Naturally, badly contaminated pipes will require cleaning or other maintenance because of the potential adverse effects on the equipment.
The effects of frequent bending, branching, or diameter variations can result in an uneven velocity of flow in the liquid. This may result in significant measurement errors. To ensure a uniform velocity distribution, a straight section of a sufficient length must be provided on the upstream side of the flow meter or flow sensor. This straight section should be at least 5 times longer than the diameter of the flow path, or 20 times longer if severe deflections or swirling currents exist. If significant measurement errors still exist, consider installing a valve or aperture.
As liquid flows through piping, valves are opened/closed and as connected pumps and other equipment operate, vibrations can be generated. Such vibrations and other noise can result in measurement errors. Karman vortex-type and Coriolis-method devices are often affected by vibrations and are likely to suffer from incorrect measurements. Electromagnetic and ultrasonic devices, however, are virtually unaffected by vibrations. In particular, ultrasonic flow meters that are capable of transmitting and receiving ultrasonic waves at high frequencies are less susceptible to vibrations and noise to ensure stable flow measurement.

Click here to enter the Flow Meter Selection Site. Enter your information and a product expert will send you a recommended parts list.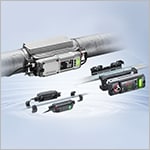 Learn basic information such as the principles adopted in various types of flow meters—including electromagnetic, Coriolis method, and ultrasonic devices—along with measures to prevent problems with piping and measurement. This site provides a wide variety of tips for ensuring smart flow management.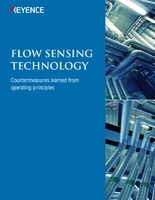 Get help handling flow management problems by learning about the various types of flow meters and the principles they adopt. This document includes essential information such as countermeasures for problems related to scale, rust, sludge, and other factors, and how to select the best flow meter for specific piping and liquids to avoid potential problems.
Learn the basics of using flow meters in factories, the factors that can lead to problems, and essential techniques for ensuring stable flow management.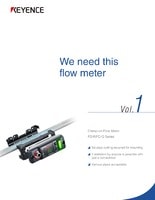 Read all about clamp-on ultrasonic flow meters that can be installed with no equipment downtime or piping work needed. Discover solutions to various conventional problems and get detailed, easy-to-understand information on the advantages of clamp-on devices.