Clamp-on Flow Meter
FD-R series
Clamp-on Flow Meter
FD-R series
All You Need To Do Is
Clamp-On
KEYENCE's FD-R Series Clamp-on Flow Meter is designed for pipes as large as 8". Installation is easy and requires only a screwdriver. The device can be mounted to a variety of materials including stainless steel, iron, copper, PVC, and resin. Both flow and temperature monitoring is possible for a wide variety of liquids—from water (including pure water) to oil, chemicals, and high-pressure liquids—at temperatures between -4°F and +248°F. The device does not come into contact with the liquid, so there is no risk of liquid-based corrosion or degradation, reducing maintenance time and costs. The rugged metal construction includes an easy-to-read indicator light, and data can be recorded directly on the device. The IP69K enclosure rating and NEMA4X compliance make this sensor both highly reliable and convenient for indoor and outdoor use.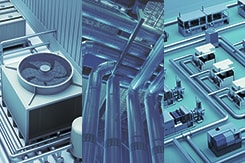 Liquid Flow Meter Selection Site
Interactive Liquid Flow Meter Selection Website. Looking for a liquid flow meter? Enter your information and a product expert will send you a recommended parts list.
Features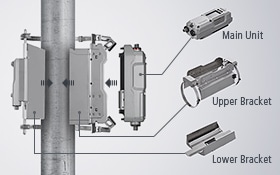 Mounting and Integration
Clamp-On the Outside of a Pipe
No Pipe Modification
No Downtime
Easily Secure with 4 or 6 Screws
Bracket Ensures Correct Mounting by Anyone
Versatility for Any Situation
Monitor Water, DI Water, Oils, Chemicals, Product, etc.
Mount to Stainless, Iron, Copper, PVC, Resin, etc.
Precise Monitoring with Accuracy of ±2.0% of RD
Integrated Temperature Monitoring
AC/DC Compatibility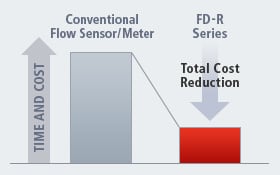 Significant Reduction in Time and Costs
No Loss of Production During Installation
No Special Knowledge, Tools, or Contractors Needed
No Risk of Contamination, Leaks, or Pressure Loss
Install in Minutes with a Standard Screwdriver
Built-In Predictive Maintenance