Clamp-On Flow Sensor
FD-H series
Clamp-On Flow Sensor
FD-H series
The Next Evolution in Clamp-On Technology
KEYENCE is the world leader in Clamp-On flow monitoring. This revolutionary technology has made flow monitoring possible in more places than ever before by making implementation easier and less cumbersome than conventional flow sensors.
The FD-H Series clamp-on flow sensor is easily installed, without any pipe modification, by simply clamping to the outside of a pipe, tube or hose. This series provides stable flow rate measurement regardless of the pipe or liquid. In addition to metal and hard plastic piping, hoses (including high-pressure hoses) can also be supported. This product can not only measure the flow rates of various liquids such as water, DI water, oil, chemicals, and coolants but can also tolerate bubbles, high temperatures, and highly viscous liquids. Connecting a concentration sensor and temperature sensor allows for the centralized management of multiple parameters, helping improve product quality, and decrease costs.
Features
Countless Opportunities for Process/Machine Improvement
Supports Any Pipe, Type of Liquid, and Liquid Condition
KEYENCE clamp-on flow sensors perform detection from outside the pipe for a wide variety of applications. Now it is possible to monitor liquids with bubbles, high temperatures, and high viscosities.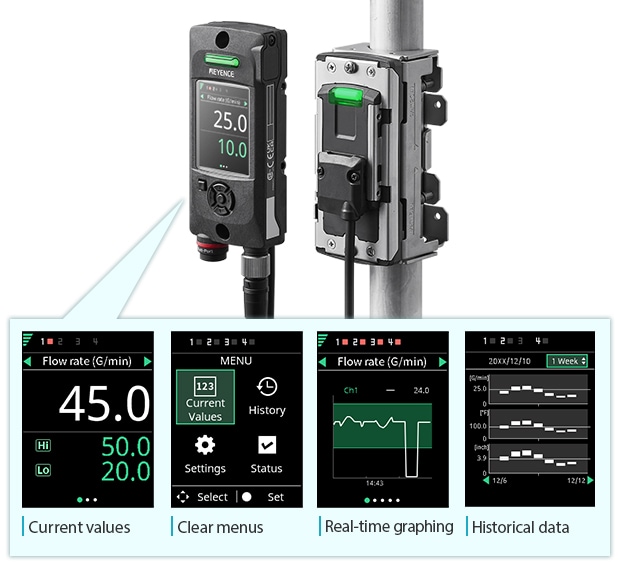 Unmatched Features
A detachable display allows for remote monitoring while also clearly displaying current values, real-time graphs, historical data and more. Universal connectivity is achieved with a choice of control outputs, analog outputs, and IO-Link. Additional features include high environmental ratings (IP65 & IP67), a built-in diagnostic function, and accuracy of 3% of R.D.
Extend Beyond Flow Sensing to Understand the Full System
Connecting other sensors to the FD-H Series allows for the continual recording and management of multiple parameters including liquid flow rate, concentration and temperature.