Non-Wetted Electrode Electromagnetic Flow Sensors
FD-M series
Non-Wetted Electrode Electromagnetic Flow Sensors
FD-M series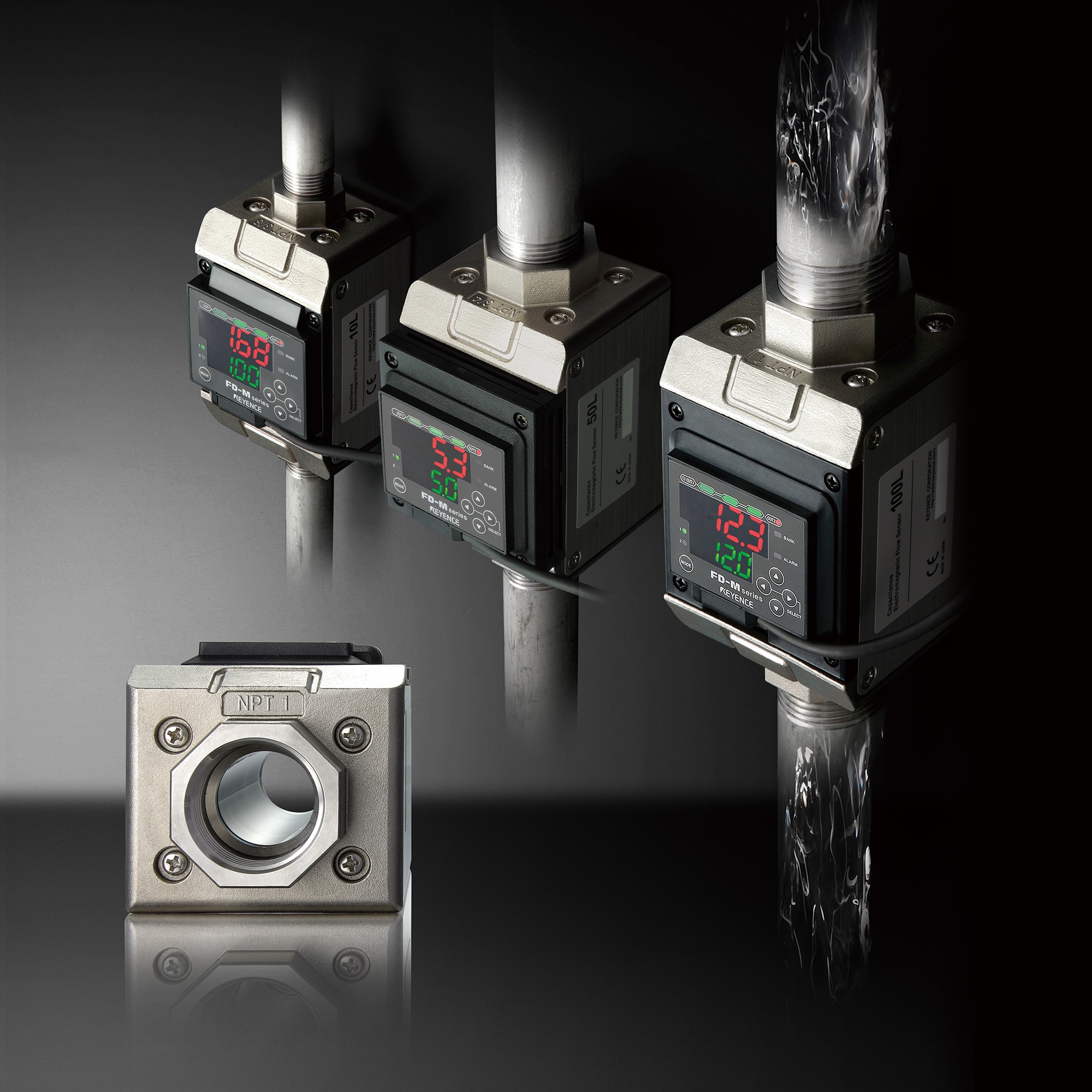 No Obstructions
No Paddle Wheel
No Electrodes
The FD-M Series Non-Wetted Electrode Electromagnetic Flow Sensor is the first factory automation flow sensor to adopt a free-flowing structure. Unlike floating-element and paddlewheel devices, the free-flowing structure of the FD-M Series has no moving parts or obstructions in the flow pipe, greatly reducing the risk of clogging. With no moving parts, the sensor is not subject to mechanical wear, which ensures a long service life. There is also virtually no pressure loss in the pipe, so the pump uses even less energy. Unlike conventional electromagnetic systems, this device detects liquid from outside the pipe, making it highly resistant to insulating deposits inside the pipe while minimizing maintenance. Two sensor types are available: one with a separate amplifier that allows flow rate monitoring using the LEDs on the sensor head and one with an integrated amplifier and a dual-row digital display for easy setup.
Features
No Obstructions
The FD-M Series leaves behind conventional flow sensing technology where paddle wheels or other obstructions can cause clogging or incorrect monitoring. The FD-M has no moving parts allowing liquid to flow freely while monitoring.
Versatility
The FD-M is commonly used in a wide array of industries such as grinding, injecting molding, and welding. It is more tolerant than conventional sensors to variations in temperature and fluid type. Additionally, the FD-M's analog capability broadens the scope of possible applications.
Ease Of Use
This flow sensor features an easy to read display and simple select-and-toggle buttons on the face of the unit. Installation is simple as there are several models available to suit a variety of pipe options.