Clamp-On Air Flow Sensor
FD-EC series
Clamp-On Air Flow Sensor
FD-EC series
New

Clamp-On Design for Clean Air Detection
Zero installation risk
Ultra-compact and ultra-lightweight
Selection is simple
The FD-EC Series Clamp-on Gas Flow Sensor easily attaches to the outside of a tube, eliminating problems such as pressure loss and clogging and allowing for an uninterrupted supply of air during sensor installation. It can measure small and large flows and is compatible with various tube materials. When selecting the sensor, just choose the one that matches your tube diameter. The high-definition display allows for intuitive operation via the display amplifier, and diagnostic mode makes it possible to check the status while the sensor is attached to the tube. This sensor can detect gases regardless of the direction they flow, allowing for installations that fit the existing device layout.
Features
Zero Installation Risk
The FD-EC Series is free from all risks associated with conventional flow sensor installation, such as pressure loss, clogging, air leakage, or contamination. Also, because there is no need to cut tubes, the air supply does not need to be temporarily shut off during installation.
Clogs due to multi-layer mesh structure
Leaks from coupling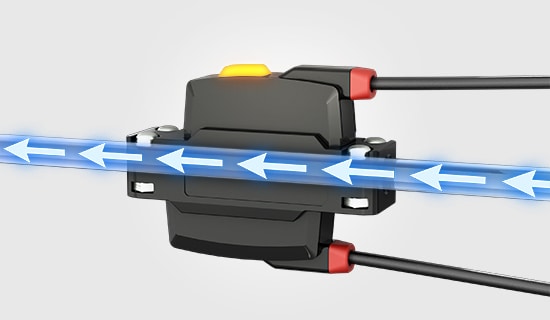 Zero risk of pressure loss, clogging or contamination
Zero air leakage
Ultra-Compact and Ultra-Lightweight
Air tubes are often thin, with limited space between tubes. The FD-EC Series is ultra-compact and clamps on for easy installation anywhere. The ultra-lightweight body also eliminates the need for mounting brackets.
Limited space mounting is possible.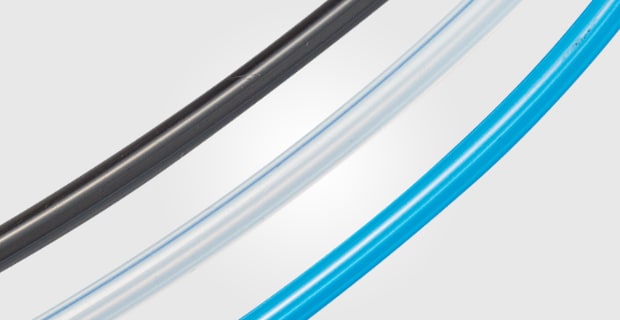 Polyurethane / PFA / Nylon
Selection Is Simple
Until now, finding a suitable air flow sensor has been difficult, as even models with the same tube diameter can have different rated flow ranges. With the FD-EC Series, flows ranging from minute to large can be measured. In addition, the system is compatible with a wide range of tubing materials, so choosing a product is as easy as selecting a tube diameter.