Features
Single Mode Beam Spot
MD-X laser markers generate high-resolution beam pulses via their hybrid oscillator, which greatly increases marking quality and uniformity. Conventional systems are forced to employ a multi-mode laser, which leads to fluctuations in laser power and target quality.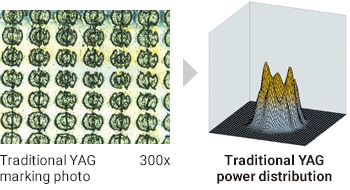 Case Studies
Laser Marking Systems
Doosan Portable Power found KEYENCE laser markers to be "plug and play" for the operator shortly after it was setup. Key advantages include user-friendly software and built-in distance pointer.

Laser Marking Systems
Speed and marking quality are critical factors for ProMATIC's customers and KEYENCE laser markers ensure both.

Laser Marking Systems
BorgWarner, a global leader in powertrain solutions, saves time and increases productivity with the MD-X hybrid laser marker.