For Manufacturing Factories
Overview and Case Studies
Logistics is the flow of transferring goods and products from the producer to consumers. This section introduces improvement case studies at manufacturing factories.
What Is Logistics at Manufacturing Factories?
There is a type of logistics called production logistics that differs a little from logistics in the pure logistics fields. Production logistics refers to the flow of goods that occurs in the series of processes at manufacturing worksites, from procuring parts and materials, to manufacturing, inventory management of products, and shipping (sales). This section provides an overview and flow of production logistics, a basic understanding of each process, and case studies in which processes are made more efficient by using handheld computers.
Case Studies for Production Logistics and Handheld Computers
Production logistics refers to the flow of goods at manufacturing sites. The processes can be broadly split into parts/raw materials warehousing, the manufacturing process, and shipping area/completed product warehousing. This section gives an overview of these processes and case studies using handheld computers for higher efficiency and labor savings.
1. Parts/Raw Materials Warehousing Overview and Issues
If the planned parts and raw materials cannot be correctly procured in the necessary quantities at manufacturing factories with superior production equipment, the manufacturing lines cannot operate according to schedule. To achieve stable operations at manufacturing factories, it is important to stabilize receiving and receiving inspections that serve as the gateway for procuring parts and raw materials.
Additionally, if parts or raw materials are incorrectly allocated, this will lead to mistakes in picking and increase efforts to pick the correct parts or raw materials again. If those incorrect parts or raw materials are moved to the manufacturing process as is, it can cause defects. Many mistakes in receiving inspections, allocation, and picking in parts/raw materials warehousing are often due to human errors such as picking or identifying the wrong items.
Parts and raw materials are managed with product slips and other means. However, humans are not suited to verifying lengthy numbers and text strings, so it is impossible to avoid the occurrence of human error, such as omissions in the inventory ledger and mistakes when verifying information. To prevent this kind of situation, inventory management using barcodes and handheld computers is the most rational choice.
Case Studies for Handheld Computers
If inventory management is used with barcodes and handheld computers, even if the product to receive lacks a barcode, the handheld computer and system are linked and a barcode label can be issued. And if warehousing, allocation, process withdrawal, parts picking, location moving, and inventory are managed with that barcode issued during receiving, product management can be implemented without waste. Adding information such as the date the item was entered into inventory provides smooth first-in first-out instructions and makes ordering parts and raw materials more efficient.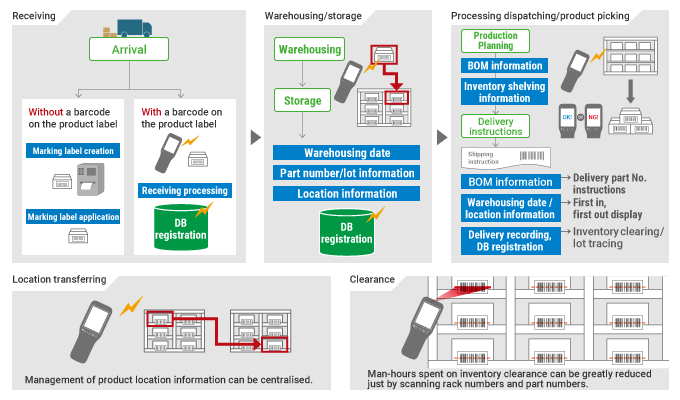 2. Manufacturing Process Overview and Issues
Many parts, raw materials, and tools are used in the manufacturing process. Mistakenly selecting one of these is directly connected to the occurrence of defects. For this reason, the correct parts, raw materials, and tools must be selected, but taking the wrong parts and raw materials with similar shapes and product numbers or mistaking the tool to use happens frequently at worksites. Handheld computers and barcodes can be used in a number of ways to prevent these types of mistakes in the manufacturing process.
Case Studies for Handheld Computers
Process Management

The results of work processes can be recorded by linking handheld computers with the system. Accuracy of work can be improved and efficiency can be increased to enable production without mistakes and problems. Process management is performed wirelessly in real-time, so progress can be checked from remote locations, such as from headquarters.

Management of Work Hours

By recording the start and end times of work using handheld computers, the amount of labor and the length of time that a worker takes to complete the necessary work can be quantified and turned into data. Then by performing statistical analysis on this data, the causes of inefficiencies can be uncovered and improvement plans can be created more easily.

Traceability

Traceability is the method of using information that allows tracking at anytime when, where, who, and in what manner shipped products were produced, distributed, and shipped. Another way of saying this is to keep a history of all processes involved in producing a product, from receiving parts and raw materials to shipping the completed product. If all processes can be traced in an integrated manner through management that uses handheld computers and barcodes, then the causes of defective products and the applicable lots can be identified when those defective products occur.
In manufacturing equipment as well, automatically reading all items with fixed code readers and collecting the data is typical.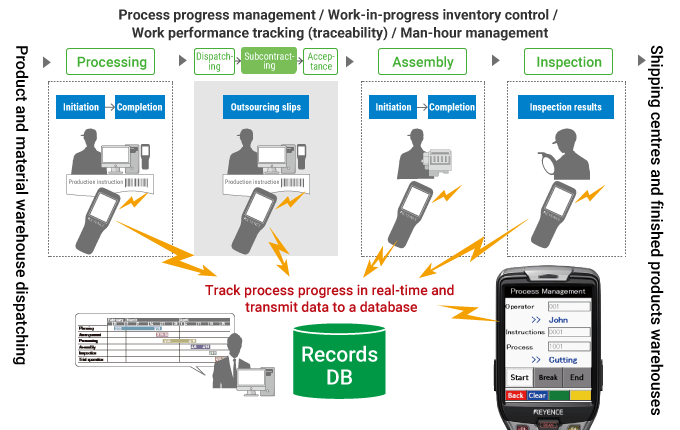 Process information can be collected in real-time and used for efficiency and process improvements!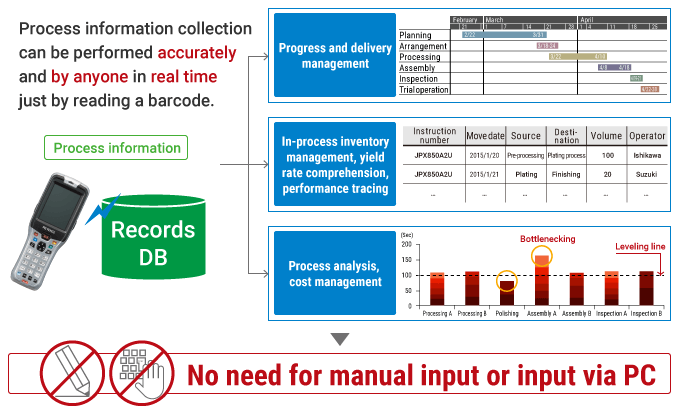 3. Shipping Area/Completed Product Warehousing Overview and Issues
The shipping inspection is work in which the destination, product name, product number, and quantity of products sorted by destination are checked to determine if they were picked according to the shipping instructions while viewing the picking list and shipping instructions form. When shipping inspections are performed visually in the same manner as the receiving inspection in 1., mistaken shipments occur with a fixed probability.
Case Studies for Handheld Computers
Shifting from visual inspections to barcode inspections using handheld computers can greatly improve verification accuracy and eliminate mistaken shipments that lose customer trust. The advantages due to adopting handheld computers are not only in preventing incorrect shipments. If handheld computers are used and linked to the system, product and quantity information that has been confirmed to be shipped can be fed back to the system in real-time, so that accurate inventory data can always be known.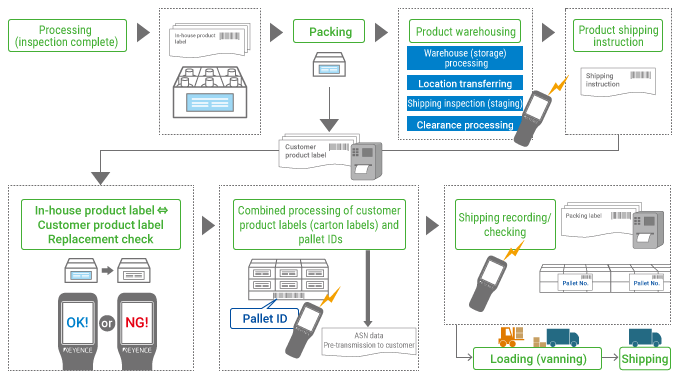 Also when shipping, a portion of product numbers on in-house product slips and customer product slips may differ or they may also be completely different, which means mistakes occur easily and extra effort is required in management.
By using handheld computers, many situations can be handled flexibly, even cases where the product numbers on in-house product slips and customer product slips change (complete match, partial match, incomplete match).