For Warehouses and Delivery Centers
Warehouse and Delivery Center Automation
The key to higher work efficiency in warehouses and delivery centers is automation, which equates to reduced labor requirements. In recent years, productivity has been greatly improved by automating receiving work through the adoption of automatic aligning machines on receiving transportation lines and automating replenishment work for picking shelves by using automated warehouse systems. Code readers, one type of material handling device, continue to evolve according to the needs of automation. This section gives case studies for code readers that are essential for automating warehouses and delivery centers.
Case Study of Orthodox Usage Using a Code Reader
1-Surface Reading
Reading Multiple Codes
Hold and Read (Manual)
Using handheld computers is effective for accurately performing barcode reading without mistakes, but the conventional method involved three actions: take the product in one hand, take the handheld computer in the other, and then scan the code. What came to market to eliminate the waste in these actions was a code reader with a scanner lit at all times. With this type of code reader, code reading is completed with a single action of just holding the product in the light. This is also called scan reading because the code is read just by holding the product.
For example, if code readers are embedded in the line and the cargo that flows past is automatically read, then complete automation is easy without the intervention of people. If the position of labels and slips is determined to a certain degree, code reading can be performed with a method called 1-surface reading that uses a single code reader, and installation costs can be minimized. Typical methods also include embedding code readers in sorters and belt conveyors and reading codes by manually holding slips under fixed code readers.
Case Study of Scanning Cargo Flowing Randomly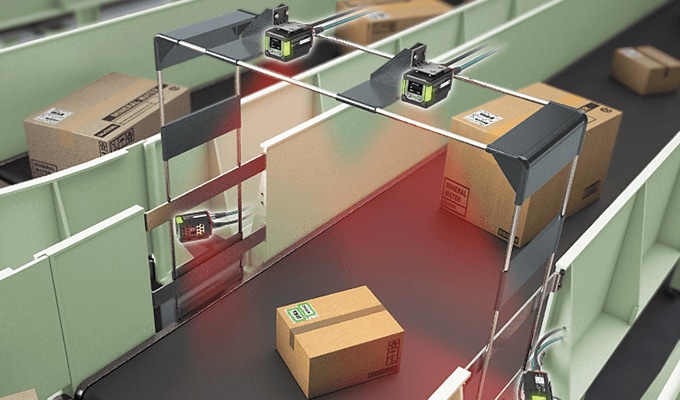 At logistics worksites, cardboard boxes often do not flow down the line neatly. Typically the direction of those boxes and the position of their barcodes are random. Gate-type code readers are what can read the barcodes of boxes flowing randomly in this way without mistakes. Codes can be scanned over a wide area, and if there is a barcode on any of the five surfaces (excluding the bottom), then that code can be read without problems. This eliminates the need to have workers stand along the line and adjust the position of cardboard boxes, which can contribute to saving labor resources.
Case Study of Reading Using Multiple Code Readers
There are also cases in which barcodes are read using multiple code readers when it is difficult to scan boxes with a single code reader, such as when there are barcodes attached to multiple surfaces and when there are different box sizes. To automate reading barcodes using code readers, the optimal code reader installation method must be selected according to where slips are attached, the number of slips, and the shape of the box. For example, 2-surface reading involves scanning the top and side of the box. 3-surface reading involves scanning the top and both sides of the box. 5-surface reading (tunnel scanning) involves scanning all surfaces except the bottom. Lastly, 6-surface reading involves scanning all sides of the box, including the bottom. However, the more code readers that are used, the more installation costs will be required and the greater the effort will be to verify data, so it is important to select the optimal method for the cargo.
2-Surface Reading

3-Surface Reading

5-Surface Reading

6-Surface Reading

Reading on a Line with Cardboard Boxes of Mixed Sizes

In large logistics centers, warehouses, and delivery centers, a wide variety of cardboard boxes in different sizes are handled every day. Conventional code readers had difficulty with stable detection due to problems involving the field of view, depth, workpiece vibration, and workpiece travel speed. Now if there are cardboard boxes with different sizes, multiple code readers must be installed to handle this situation. There is some frustration because this involves extra costs and slows down processing because the read data is verified.
Recently, there have also been wide-field type and long-depth type code readers, as well as methods to implement stable reading with few code readers regardless of the size of the boxes and the location of the barcodes.