Role of Logistics Equipment (Material Handling Devices)
Material handing is the general term for the machines and equipment used for the purpose of making cargo handling work more efficient and using fewer labor resources in cargo handling work that places a large burden on workers. These machines and equipment are called material handling devices. This section describes the material handling devices used at logistics worksites by the work they perform.
Equipment Used in Logistics: Material Handling Devices
There is a large amount of heavy labor involved at logistics worksites, such as in loading, unloading, and transporting cargo. Material handling device is a general term for the machines used to make this logistics work more efficient. These machines perform a variety tasks including moving raw materials, works in process, and completed products. There are many material handling devices used at logistics worksites. These include forklifts, carts, pallets, conveyors, conveyance robots, sorters, picking systems, and automated warehouses.
Loading
Loading is the work to load cargo to ship in a truck. Unloading is the work to unload cargo from a truck. A forklift probably comes to mind when thinking about loading and unloading. If you visit a port area, you can see many forklift drivers loading and unloading cargo.
Forklifts
Forklifts are used in many locations, including factories, logistics warehouses, port facilities, and cargo terminals. They are infinitely versatile as they can easily lift heavy loads and turn in a small radius. Forklifts come in a variety of shapes and sizes, and they are defined as follows.
Definition of a Forklift

A forklift is a motorized (e.g., engine) cargo handling and transportation vehicle that is equipped with device (e.g., fork or ram) to load cargo from the front and a mast that moves the device up and down.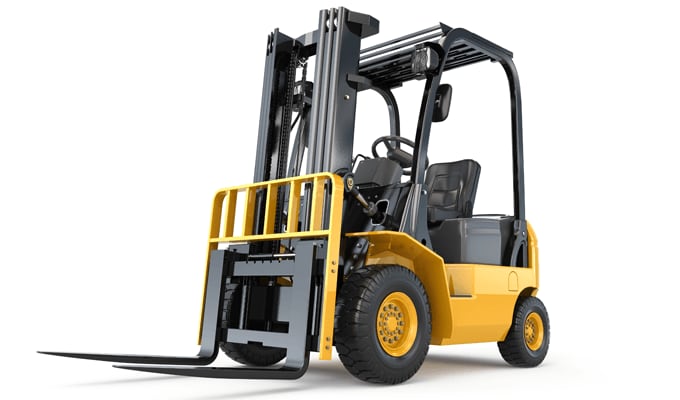 Major Types

Counterbalanced forklift
Reach-type forklift and others

Major Power Sources

Engine
Batteries and others
Palletizers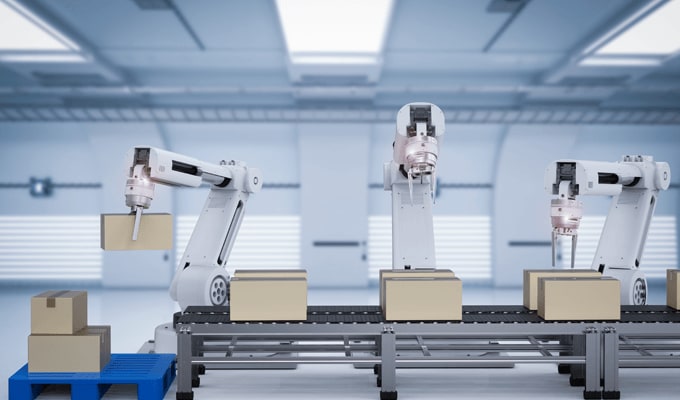 Palletizers are machines that automatically load cargo on a pallet. Palletizers are separated into high-level palletizers and low-level palletizers that load products from those respective levels and palletizing robots that grab (suction) and stack cargo using industrial robots.
Depalletizers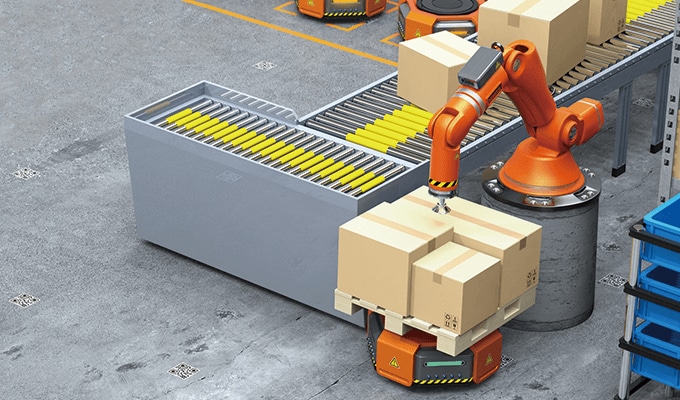 The opposite of a palletizer is a depalletizer, which is a material handling device that unloads cargo stacked on pallets. As with palletizers, there are various types of depalletizers according to the type of cargo that is handled.
Container Vanning and Devanning Systems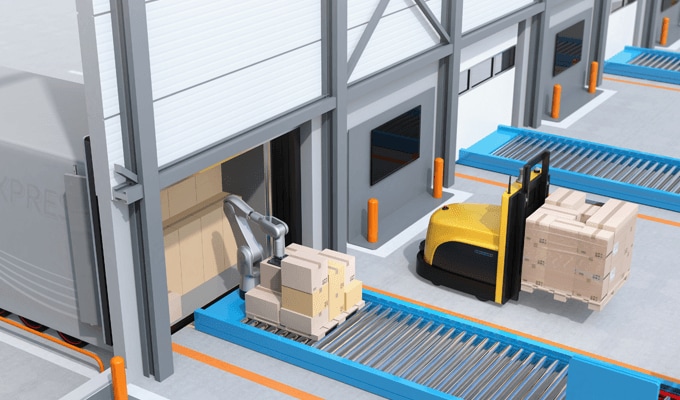 Vanning is the work to load a container with cargo and devanning is the work to remove cargo from a container. Normally vanning and devanning are performed manually or with a forklift, but vanning and devanning can be made more efficient and require less labor by connecting a belt conveyor from the container to inside the warehouse and by using vanning/devanning assistance machine.
Transportation Inside Warehouses
The simplest material handling device that transports cargo in a warehouse or delivery center is a cart. There are also self-propelled automated guided vehicles (AGV), overhead trolleys, and robots for transporting shelves.
Automated Guided Vehicle (AGV)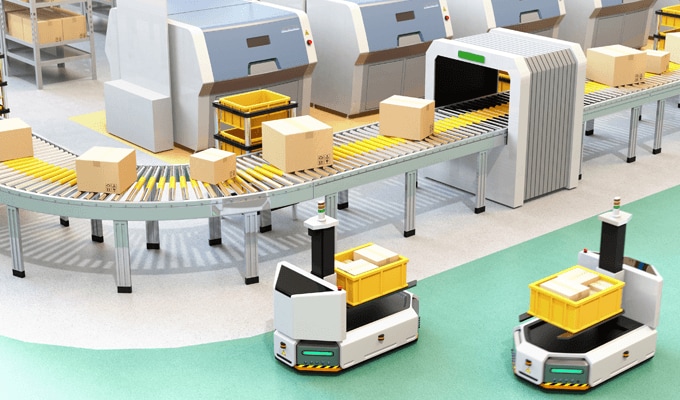 An automated guided vehicle (AGV) is a vehicle that guided in an automated manner. Normally magnetic tape or magnetic rods are installed on the floor like rails and the transportation vehicle drives itself along those. There are many types of AGVs according to the application, including conveyor type AGVs, flat body/heavy load type AGVs, low floor type AGVs, and tow type AGVs.
Overhead Trolleys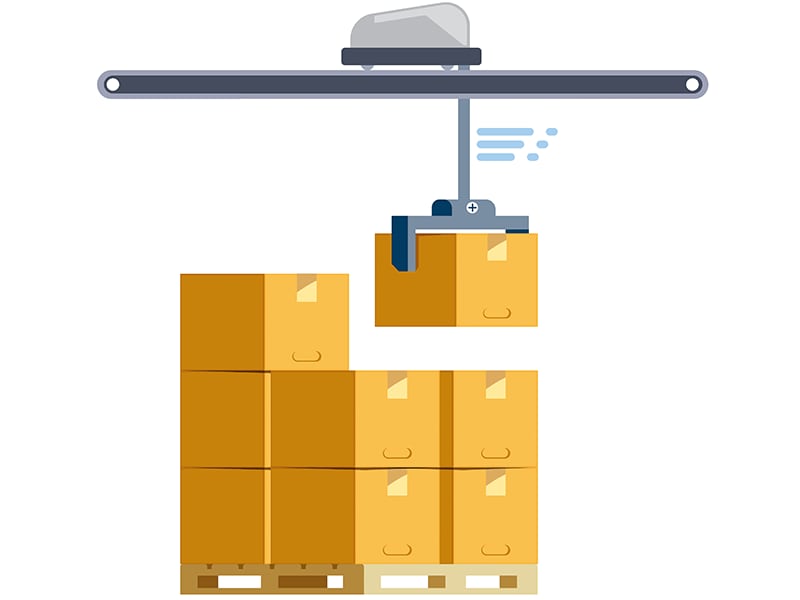 Overhead trolleys are carts that run on rails installed on the ceiling using free space. Similar to automated guided vehicles, overhead trolleys are capable of self-sustained operation, and they can be used to transport cargo and in applications such as automatically replenishing goods to picking shelves, sorting goods by shipping destination, and transporting parts between processes in factories.
Automated Conveyance Robots with AI
In recent years, automated guided vehicles (AGV) have evolved and automated conveyance robots with AI have appeared. These robots also come in many types, such as robots that independently deliver goods to workers without requiring magnetic tape, etc., to be installed like that for AGVs, automated conveyance robots that can follow workers, and also shelf transportation robots that create an easy to work in environment by moving entire shelves.
Sorting
Conveyors (belt conveyors) and sorters (automatic sorting machines) are used in work to sort large amounts of cargo while also transporting the cargo. Conveyors and sorters are also called sorting conveyors when combined into a set.
Conveyors (Belt Conveyors)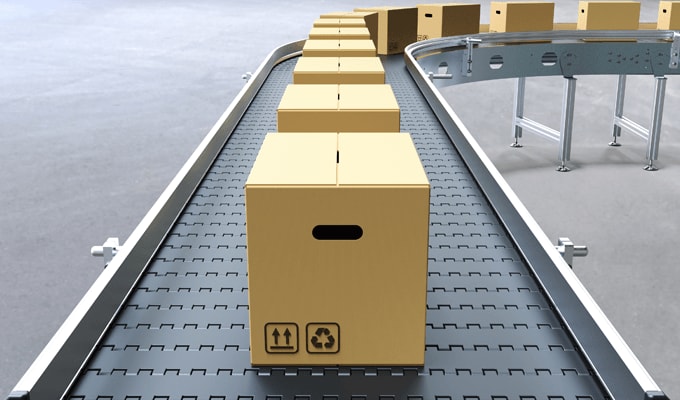 A conveyor is a material handling device that transports goods placed on it at a constant speed. Conveyors (belt conveyors) are used at many worksites.
Sorter (Automatic Sorting Machines)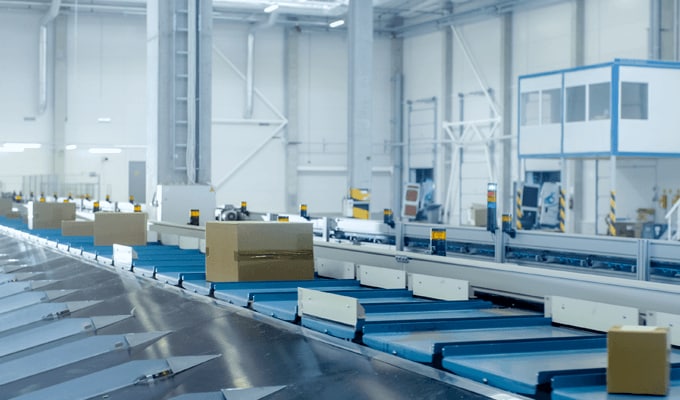 There are many types of sorters (automatic sorting machines), such as slide shoe types, pan types, cross belt types, and popup types, and sorters automatically perform sorting work on cargo. The cross belt type that combines longitudinal and traverse belt conveyors is called a cross belt sorter, which is used for high precision and high speed sorting.
Automatic Labeling Machine
A material handling device that prints labels appropriate to a purpose and automatically applies them to containers and cardboard boxes on a conveyor line.
Storing
Racks and shelves are typical equipment used for storage, but there are also automated warehouses that automate the storage and management of goods on shelves. In factory automation (FA), there are also designs that include equipment that automatically passes cargo to automated guided vehicles.
Automated Warehouses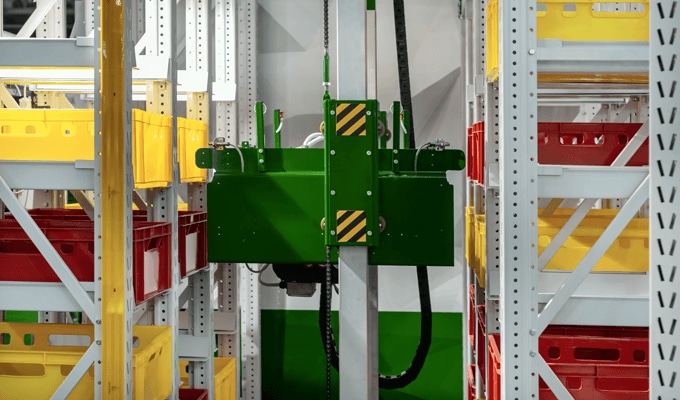 There are many types of automated warehouse in which the storage and management of goods on shelves has been automated, from large types that store and manage goods by pallet to types that are specialized for picking. For large types, there are warehouses in which the entire building has been made into an automated warehouse, and these greatly benefit from higher efficiency and lower labor requirements.
Preparing for Shipping
In shipping, picking, sorting, and packaging, work is performed and experience is required to find the target products and quickly ship them. Systems that make up for this experience are digital picking systems and automatic case formers.
Digital Picking Systems
Digital picking systems support picking by workers. Normally workers search for products while checking the product number and quantity, but this increases movement inside the factory and takes time. With a digital picking system, digital picking indicators are installed on shelves and the indicator is lit for the location of the product to pick. This allows workers to immediately reach the desired products. This is efficient and economical because workers can perform the work with the same speed since they no longer need to search for products and worker training can be decreased.
Automatic Case Formers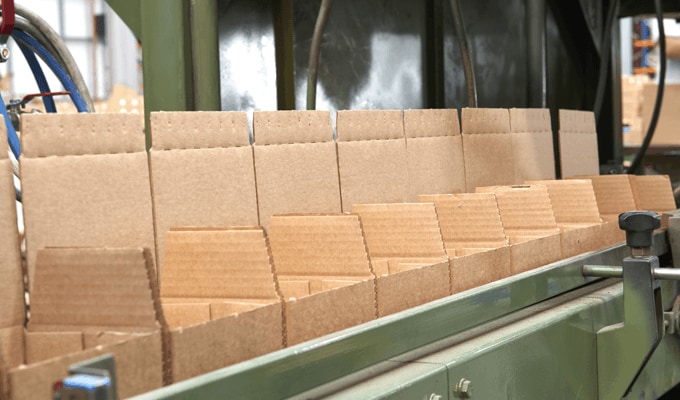 Automatic case formers are material handling devices that automate opening a folded cardboard box and applying tape to the opened box. In logistics centers with a large amount of packaging work, it takes time for workers to assemble cardboard boxes, so using automatic case formers allows cardboard boxes to be filled and shipped immediately.
Dimensioning, Weighing, & Scanning (DWS) Systems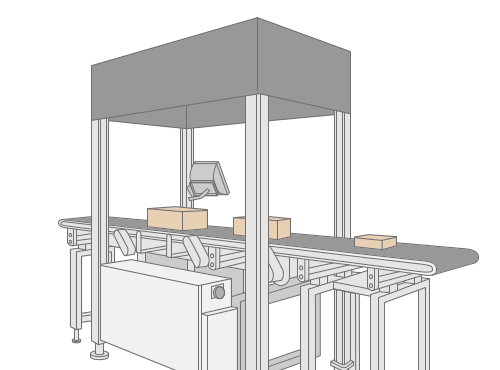 Dimensioning, weighing, and scanning (DWS) systems identify the dimensions, weight, and barcodes of items to ship in a single scan. These systems prevent shipping mistakes and facilitate speedy shipments since they can accurately measure the dimensions and weight of items to ship on a belt conveyor.