Automotive Components
With the evolution of automobiles—such as automatic driving technology, EVs (electric vehicles), HVs (hybrid vehicles), and connected cars—the types and varieties of related components are increasing. Various components have become increasingly sophisticated through the adoption of advanced technologies, including components in energy, power/drive, and exhaust/cooling systems; ECUs; sensors and connectors; communication and control systems; interfaces; and secondary batteries. Coating has been used for adhesion and film-forming to satisfy demands for reduced weight and improved productivity.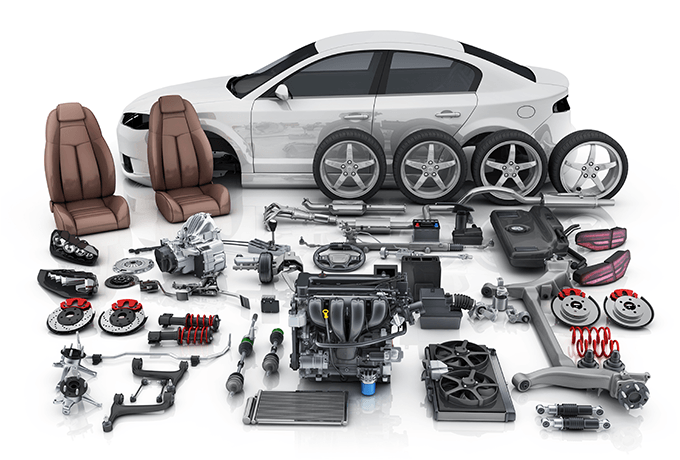 Adhesion in automotive manufacturing (Component manufacturing)
Examples of adhesion coating in automotive component manufacturing include coating of various adhesives in assembly processes and applying liquid gaskets and sealant (sealer, primer) to prevent leakage of oil and water.
Adhesive coating (instant curing, anaerobic, UV curing, etc.)

Combination lamps, headlights, side mirrors
Radiator hoses, wheel covers, shock absorbers
Vehicle interiors (seats, fabric for cabin and ceiling, inner door components, etc.)
Sensors (drive control system sensors, airbag sensors)
Cabin components (dashboard instruments and parts, navigation system, AV system, etc.)
Liquid gasket and sealant (CIPG, FIPG, etc.) coating

Engine parts (cylinder heads, cylinder blocks, oil pans, etc.)
Transmission covers, manifolds, trim components
ECU (Electric Control Unit) packaging, etc.
Topic: Sealant (sealer, primer) coating that directly affects quality
Using automatic coating with a dispenser robot to apply liquid gaskets and sealant (sealer, primer) instead of conventional solid sealing parts such as O rings and packings improves productivity and reduces cost.
However, when automatic coating is used to apply highly viscous sealants, the application must be stable and in a continuous bead with a high aspect ratio. Any defective shape of the bead, such as a void, may cause oil or water leakage, resulting in the deterioration of product quality and safety.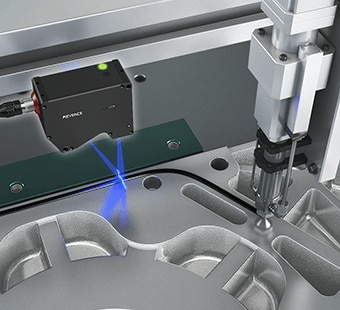 Inspecting sealant shapes immediately after coating by tracking the dispenser can be the most effective measure for preventing the release of defective workpieces.
Reference example: Coating Inspection of Automotive Components
Topic: Coatings for screw loosening prevention
Bolts used in automobiles and other vehicles will loosen naturally after exposure to repeated vibrations. One method to prevent the loosening of screws is to coat the bolts with a special adhesive to join or immobilize the bolts. This method is commonly used to seal engine parts and fasten airbags.
There are a wide variety of bolt adhesive types available depending on the purpose. For example, types that provide elasticity (vibration damping) or water-stopping ability, weld types that allow loosening and re-tightening, and types that contain microcapsules that start curing after the screws are tightened.

Although screw-locking adhesives are applied with a brush in some cases, using a dispenser allows stable and efficient coating of a fixed amount of liquid on a large number of screws. This can also prevent coating defects caused by hairs that come from the brush and adheres to the threads.
The process of applying anti-seizure coating on screws (functionalization) can also be automated in the same manner.
Functionalization and surface processing in automotive manufacturing (Component manufacturing)
Functionalization and surface processing in the automotive component manufacturing processes are done by dry coating or wet coating, depending on the purpose.
An example of dry coating is the DLC (diamond-like carbon) coating on the surface of engine parts that cause friction. Wet coating is used for coating liquids. There are a wide variety of agents and applications, such as various greases for suppressing malfunctions caused by friction heat or pressure, and coating materials for protecting the surfaces of components.
Grease coatings

Engine and surroundings: Bearings of electrical parts and accessories, one-way clutches in a pulley, engine starters, electric power steering, wire harnesses
Underbody and drivetrain: Wheel bearings (hub unit bearings), hub caps, constant-velocity joints, propeller shafts, ball joints
Motors: Wipers, door mirrors, power seats, electric antennas, ABS (Anti-lock Brake System), EGR (Exhaust Gas Recirculation), electric throttles
Control cables: Accelerators, parking brakes, window regulators
Others: Chassis components, door components, ECU/IGBT modules, seat components, instrument panels (moving parts of air-conditioners and buttons)
Types of coatings

Hard coat: Headlights, combination lamps, polycarbonate (PC) resin windows (Dry coating may be used together in some cases.)
Moisture-proof coating: ECU PCBs, motor PCBs
Others: Rust prevention of metal components, water-stopping coating on metal and resin components, shatterproof or water-repellent coating on glass panes, painting, plating
Topic: Advancement of automatic grease coating in small spaces
In the automotive component coating process, automation of coating for complex-shaped components or in small spaces is traditionally difficult.
In recent years, however, advanced automatic coating has become quite popular. This method is a combination of the 3D motion of a dispenser robot and non-contact (jet) coating that provides drops of grease at an angle. This system automates grease coating on complex-shaped components and intricate sections such as gear boxes, door locks, power windows, and seat rails.
For the moisture-proof coating on ECU PCBs and motor PCBs, controlling automatic coating equipment such as non-contact dispensers allows fast and precise automatic coating only on the necessary areas without the need for masking.