Smartphone and Tablet Inspection and Process Control
As more compact, thinner, and lightweight designs with higher functionality become more prominent, the component density of electronics such as smartphones, tablets, and wearable devices has continued to increase. The manufacturing processes of such advanced devices are supported by precision automatic adhesive and sealant coating onto small targets and by high-accuracy coating film formation on optical films.
As the coating process and equipment continues to advance, the demand for high-speed, high-accuracy measurement systems increases. This is in order to achieve and maintain coating quality, high-accuracy film thickness formation, and equipment control.
Dispenser nozzle height measurement and control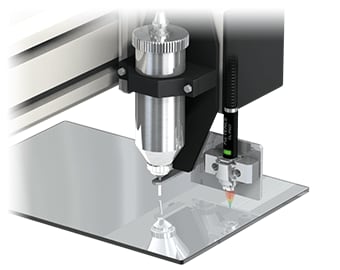 In the manufacturing process of smartphones, tablets, and other devices, automatic coating of small quantities of adhesive is used for assembling precision components or joining parts during product assembly. This makes it possible to meet the demand for smaller, thinner, and lighter weight design while also improving production efficiency.
Ensuring advanced, high-accuracy, automatic coating requires not only a sophisticated dispenser robot, but also a high-performance displacement sensor that moves together with the nozzle, working as the eye of the dispenser.
Installing the Confocal Displacement Sensor CL-3000 Series so that it follows the dispenser nozzle enables nozzle height control through real-time measurement and target height feedback.
The compact sensor heads of the CL-3000 Series are almost one-fiftieth (ø8 mm head) the size of conventional models, allowing easy installation next to the dispenser nozzle. The weight has also been reduced by about 50%, which reduces residual vibration when operation stops. The multi-color confocal technology uses a coaxial system to provide a wider measurement range and ensures stable height measurement and feedback without being affected by the transparent, mirror, or glossy surfaces of materials, or by shapes such as concaves, differences in height, and inclined or rounded surfaces.
Waterproof device sealant shape measurement
The sealant coating process greatly affects the waterproof performance of compact, thin-profile devices such as smartphones and tablets.
Applied sealant defects such as pulsations, excessive or insufficient amounts, or pooling directly affect the waterproof performance of a product. The only way to prevent defective products from being released is 100% inspection of the coating quality. However, this is difficult with offline measurement using conventional measurement systems due to problems such as excessive time required for inspection.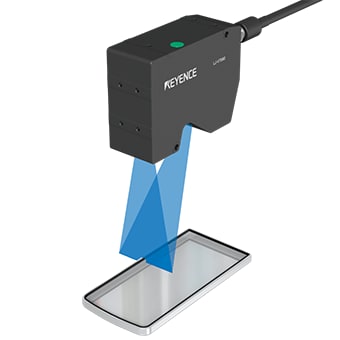 Using the High-speed 2D/3D Laser Scanner LJ-X8000 Series enables stable and high-accuracy inline 100% inspection of the sealant shape immediately after automatic coating.
The use of a blue laser emitted through a slit ensures reliable shape detection without being affected by the shape of the target, height differences, or material transparency or reflectiveness. The ability to detect 64,000 cross-sectional shape data points per second ensures reliable measurement even in high-speed lines. Using 3D image processing, detected 2D cross-sectional shapes can be converted to data with X/Y and height information. This allows for more precise inspection of edges.