Inkjet printing on packaging film | Food, chemical, and cosmetics industries
Application

Printing expiration dates and lot numbers on films for individually packaged sweets, frozen foods, seasonings, and other products

Advantages

Prevent mistakes in printed content while also increasing rotation speeds by installing the inkjet printer directly on a pillow-type packaging machine or rotary filling machine.
Packaging film printing/installation example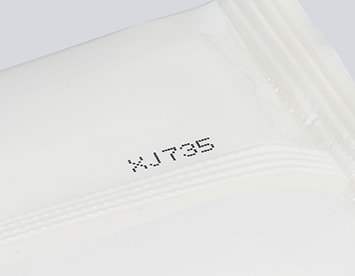 Installation example: Printing with pillow-type packaging machines
KEYENCE inkjet printers are commonly used for inline printing of date and lot codes during packaging process. These printers eliminate problems such as blurred or missing prints, as well as holes on films that are usually caused by the contact method printing like stamping.
Through built-in sensors and optimization, flawless and clear marking can be achieved. Inkjet printers can be easily installed on both high-speed production lines or packaging machines. When using encoders with the printers, printing speed is automatically adjusted according to film/line speed to ensure stable printing.

KEYENCE inkjet printers can be used in a variety of applications, depending on installation requirement, operating environment, printing location, and other specifications.
Solutions provided
Printing of expiration dates, manufacture dates, and lot numbers
Printing on thin films and sheets, including packaging bags
High-speed printing
Download PDF