Inkjet printing on cardboard boxes | Food, chemical, and cosmetics industries
Application

Printing best by dates and lot numbers on cardboard boxes, wrapping paper, and other packaging

Advantages

Easy to install on a case sealer. The ability to adjust character spacing as desired ensures smooth checking with print inspection systems.
Cardboard box printing/installation example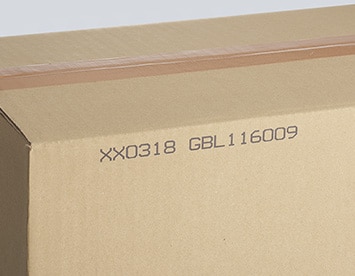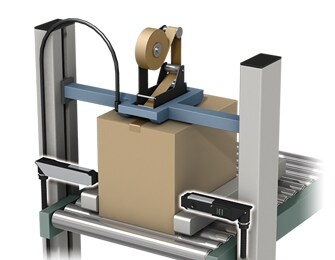 Installation example: Dual-side printing on cardobard boxes
Dual-side printing can be performed by the inkjet printer for products that require printing on both sides. Changing print content for both sides simultaneously is easy and can be done using just a single touchscreen.

When compared to roller-type stamping machines, inkjet printers offer clearer printing with no missing or faded characters. The ability to adjust throw distance, which is not available with on-demand types, eliminates damages that could have occured from print head coming into contact with cardboard.
Solutions provided
Printing expiration dates, best by dates, lot numbers, and more
Customizable character spacing
Inspect printing using a print inspection machine
Download PDF