NC Gear Cutting Machines
1. Overview
Gears were made by hand from ancient times until the 18th century when mechanization became widespread in Europe with the introduction of clocks and other machines. During the Industrial Revolution, machines dedicated to making gears were developed in quick succession.
In gear making, steel cylinders are first cut into circular plates, which are then machined into blanks (holed plates without teeth) before undergoing the processes of hobbing (cutting out teeth), quenching (heat treatment), and grinding of the surfaces and the teeth. Today, each process uses an NC gear manufacturing machine, such as a hobbing machine (machine for cutting out teeth). These gear manufacturing machines allow operators to easily adjust the cutting speed and to specify the number of gear teeth.
In recent years, composite processing machines based on lathes are becoming common. These composite processing machines can complete the processes from broaching (bore inner surface machining) and milling (cutting) to hobbing, minimizing changeovers and allowing for greater efficiency in gear production.
2. Major Types of Gears
Gears come in various shapes and sizes, and they all need dedicated machines for machining. Gears can be broadly categorized into spur gears and bevel gears, with spur gear cutting machines and bevel gear cutting machines as the specialized gear cutting machines, respectively.
Other gears include helical gears, which have spiral teeth; rack and pinion systems, which translate rotational motion to linear motion; and worm gears, which transfer motion in 90-degree angles.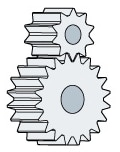 3. Common Gear Cutting Methods
The most common methods of cutting gear teeth (hobbing) are the generating method and the forming method.
With the generating method, the rack cutter is pushed against the disk that will become a gear, cutting along the circumference of the disk. While this method makes it possible to produce high-precision gears, the high costs are a disadvantage. Precision parts can then be finished by grinding or honing after the teeth have been cut. The generating method is widely adopted in gear cutting, and the most common machine used is the hobbing machine.
On the other hand, the forming method uses a milling machine equipped with a cutting tool with the same shape as the grooves of the desired gear. This method enables mass production of gears without the need for dedicated production machines.
Other ways of making gears include shaping for producing bevel gears, and plastic forming processes such as forging.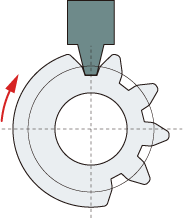 4. NC Gear Production Machines
Among the many NC gear production machines, the NC hobbing machine is one of the most widely used types and is widely employed in the automobile industry. Numerous models have been developed in the pursuit of precision and production efficiency, further empowering gear production.
Other NC gear production machines include shaping machines, which can achieve precision teeth cutting; grinding machines, which grind quenched gears; honing machines, which scrub the surface of gears after quenching; and shaving machines, which finish the gears. These machines are all used to produce precision gears.