Holders
1. Importance of Holders
A variety of holders can be found in the field of metalworking for the purpose of improving accuracy, efficiency, and safety, including tool attachments, workpiece holders, and guide jigs.
These tools are essential for accurate, speedy processing in addition to saving the operator from the hassle of changeovers and line marking. While general-purpose holders are commercially available, some machining manufacturers develop and make their own attachments and jigs to help manage more challenging processes.
The automation of machining, such as with machining centers, is advancing at a rapid pace. However, at the same time, fully meeting the customer's needs simply by adopting and operating machining equipment is becoming increasingly difficult. In terms of added value in machining, holders have a steady grip on a key position.
2. Jigs
Among holders, jigs are the tools that determine whether the finish is good or bad. There are different jigs that provide a number of different functions, including workpiece positioning, tool guiding, and securing. Jigs are guide parts for manufacturing similar parts accurately and efficiently. Jigs also have an important role in ensuring repeatable product quality regardless of the operator.
A jig consists of a surface plate that ensure the levelness of a workpiece, and a device that holds the workpiece in place. Using a jig reduces the need for line marking and makes it possible for anyone to finish a workpiece to specifications. Jigs come in a wide variety, from those that support multiple types of machining to specialized jigs used with a specific kind of workpiece.
Surface plates, vises, jig bases, and clamps (U-shaped clamps) are readily available at stores while other jigs are also available from tool manufacturers. Additionally, specialized jigs can be custom-made for a specific need.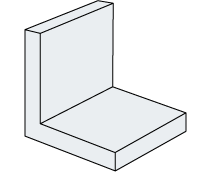 3. Holders for NC Lathes
Called chuck jaws, holders for NC lathes hold a workpiece in place. Chuck jaws are quite diverse, ranging from standard-equipped models to custom-made, specialized types.
Broadly grouped, there are soft jaws and hard jaws. Soft jaws are used for precision machining or finishing. Made from easy-to-cut material, they are deliberately left unquenched so that the jaw part can be cut as needed to hold the workpiece. On the other hand, hard jaws are generally used for roughing.
Other types of holders used with NC lathes include larger pieces of equipment such as autoloaders, which feed and load materials into the NC lathe.