Cutting Types
Cutting is a technique where the operator moves a material (workpiece) such as metal and the tool in relation to each other in order to shape the workpiece into the desired form through shaving, drilling, etc. Cutting can be broadly divided into two methods: rolling, where the workpiece is restrained while the tools turn, and turning, where the workpiece is turned instead.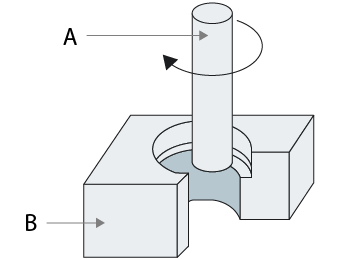 This section introduces milling as a typical example of rolling, and lathe processing as a typical example of turning, as well as the machine tools used for each process.
1. Milling
Milling is performed by rotating a cutting tool called a milling machine mounted on a spindle. Because the tool comes into contact with the secured workpiece intermittently for cutting, a wide variety of machining is possible, including cutting flat planes or curves into the workpiece surface, or boring or grooving the workpiece.
Different types of milling machines are available according to the orientation of the spindle: horizontal machines, vertical machines, and gantry machines, which feature a main body shaped like a gate. Using tools such as face mills, end mills, and slot cutters, these machines cut materials into the desired shape.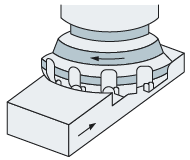 [1] General-purpose milling
General-purpose milling involves the milling operation being performed by an operator. Moving the tool and workpiece in relation to each other, the operator determines and sets the cutting conditions, including the tool position and the feed, speed, and cut amounts. This manual method ensures a refined, high-quality finish.
[2] NC milling (CNC milling)
NC milling involves milling under cutting conditions controlled by a computer. Before numerical control (NC), punch cards were used for milling program control. Today, computer numerical control (CNC) has become mainstream, and the term "NC milling" now often also includes CNC milling. The automated operation reduces the labor involved in the process, and enables more complex shapes to be cut through programmed control using 3D CAD or CAM software.
[3] Machining centers
A machining center is a multi-functional NC machine that features multiple spindles with different tools mounted, including milling tools. Using a machining center makes it possible to serially combine linear and rotational motions for continuous cutting such as boring and curvature surfacing to create more complex shapes.
2. Lathe Processing
In lathe processing, cutting is performed by pushing a rotating cylindrical workpiece against a cutting tool called a tool bit, which is attached to a spindle. Using a lathe, the periphery of a cylindrical workpiece can be made circular, tapered, drilled, bored to enlarge a hole, threaded, or parted by grooving.
[1] General-purpose lathe
With general-purpose lathe machines, the operator manually performs feed operations and exchanges tools. The workpiece is held in place by a holder called a chuck, and is rapidly rotated for cutting. With a tabletop bench lathe, small parts can be machined on a workbench.
[2] NC lathe (CNC lathe)
Controlling the machining conditions of lathe processing using a computer makes it possible even for beginners to create products at a certain level of quality. Some models also support automatic changeover of multiple tools for improved work efficiency.
Cam-operated automatic lathes were conventionally used to manufacture same-shaped products from a long rod material―just like sliced hard candies. In recent years, however, cams have been replaced by programmed control in NC automatic lathes.