Handheld Probe Coordinate Measuring Machine
XM series
Handheld Probe Coordinate Measuring Machine
XM series
Portable, Benchtop CMM
High-accuracy measurement over a large area; on or off the system
High-accuracy 3D measurement with a handheld probe
Large-area measurement with a maximum measurement size of 2 m (6.6')
Selectable measurement styles
The XM Series is a handheld coordinate measuring machine (CMM) that lets anyone easily measure 3D/GD&T features. The system is portable and shop-floor ready, so measurements can be taken in any location. The unit also automatically records measurement data and creates detailed inspection reports. The images showcases our latest XM-5000 model which allows high-accuracy measurement for palm-sized parts to large applications.
Features
High-Accuracy 3D Measurement With a Handheld Probe
Targets can be approached from any angle, allowing for intuitive measurement. The measurement results displayed on the monitor are easy to understand and include images.
Large-Area Measurement With a Maximum Measurement Size of 2 m
(6.6')
The measurement space is 66 times larger than that of conventional models. Everything from palm-sized parts to large parts can be measured.
Measurement Range in the Horizontal Direction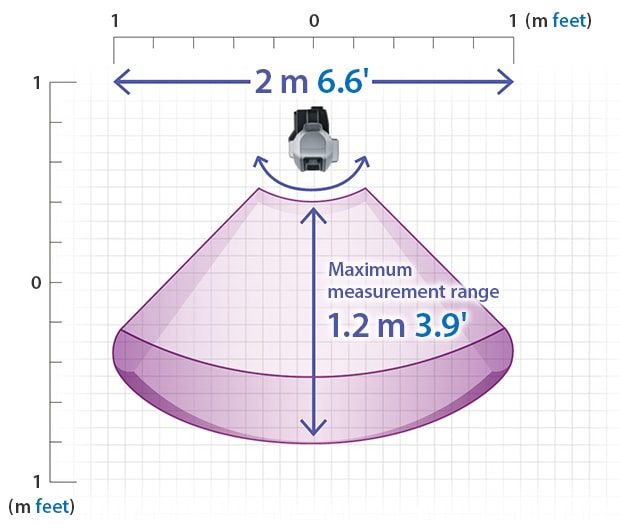 Measurement Range in the Vertical Direction
Selectable Measurement Styles
The measuring head can be installed not only on the stage but also on a dedicated mount or tripod. This new-concept coordinate measuring machine can be placed anywhere.
Adaptable to Your Workbench
Portable for Large Part Measurement
In-Machine Measurement