Concept of minimum detectable object size for defect inspection
Machine vision users are often concerned about finding the minimum detectable size of their defects or flaws.
The following calculation will determine the machine vision system's minimum detectable flaw size:
A=CCD pixels in the Y direction of the camera
B=Field of view (Y direction) (mm)
C=Minimum detectable pixel size on the CCD (pixel)
Minimum detectable size= B×C÷A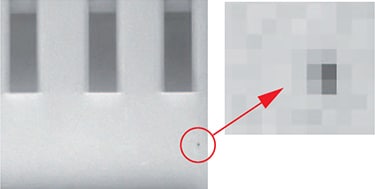 CONCEPT
In this example, the field of view (B) for capturing a target can vary between 10mm and 100mm, depending on the size of the lens selected for the application. The number of pixels of the CCD depends on the camera used. The number of pixels in the y-direction (A) of a standardsize 240,000-pixel CCD is 480 pixels, while that of a mega-pixel type 2 million-pixel CCD is 1200 pixels. The minimum detectable size(C) on a CCD is 1 pixel, but it may be better to specify 2-4 pixels for defect detection applications.
Let's estimate the minimum detectable size of defects using a megapixel camera with a 60 mm field of view (B). Assume that the minimum detectable pixel size (C) is an ideal value of 2 pixels. If we assign A = 1200 pixels, B = 60 mm, C = 2 pixels, to the previous formula, Minimum detectable size= 60 × 2 ÷ 1200 = 0.1 mm