Network Topology (Connection Configuration)
The connection type for a given network is determined by the communication method.
For computer networks, this connection type is called the network topology, and the typical topologies are bus, star, and ring topologies.
Bus type
In this connection topology, all devices are connected along a single line.
Because of the simple structure, the total wiring required for bus types can be short. Adding equipment later will require branch wiring or other measures. In some networks, a dedicated T-branch device can be used to split the main line into two branched lines.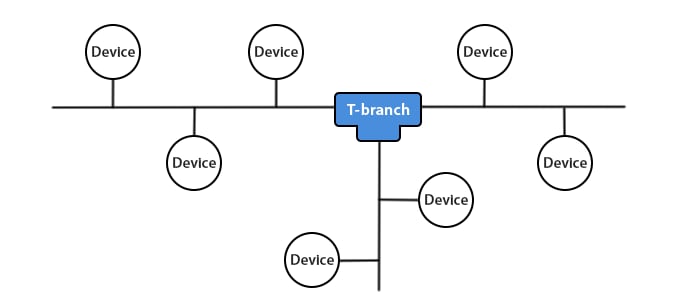 Star type
This connection configuration includes devices connected radially around a network device such as an Ethernet switch. This topology offers a high degree of wiring flexibility. Even if a communication error occurs in some devices, communication with other devices is not affected. However, the communication paths may cause communication failures if the load is concentrated on certain devices.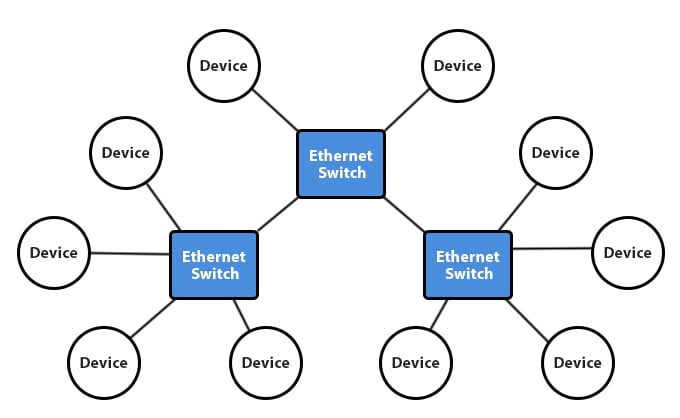 Ring type
With this connection configuration, each device is connected to two other devices, with all devices forming a circle. Limiting communication to a single direction helps prevent concentrations of communication load and data collisions. This topology can also be used as a duplex circuit to prevent communication errors through reverse communication if the ring is disconnected. (In some networks, however, communication cannot be reversed if any part of the ring is disconnected.)
(Reference) Physical topologies and logical topologies
Topology can be either physical, which refers to the physical types of connections, or logical, which refers to how data flows. Typical logical topologies are bus and ring types.
For example, with a star-type physical topology, a bus-type logical topology will be used if data transmitted from a device will be received by all other devices. Meanwhile, in a star-type physical topology, a ring-type logical topology will be used if the transmitted data travels around to each device.