Temperature Controllers/Scales/Inverters
This page introduces network connection examples for temperature controllers, scales, and inverters as well as connection examples using KEYENCE's KV-XL202/XL402 serial communication unit.
Network example
Connecting temperature controllers, scales, and inverters to a network can be done using RS-232C, RS-485, or any other supported open network connection.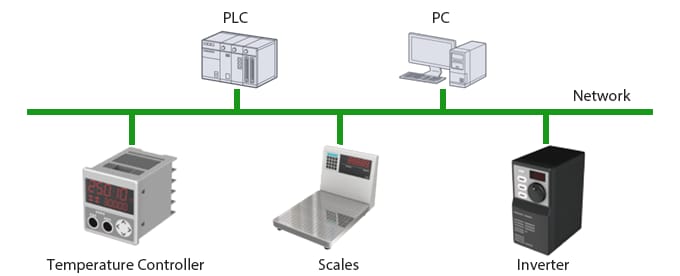 Network-compatible units or connection interfaces are required for PLCs and PCs.
A 1:1 connection is used for connections via RS-232C.
KEYENCE serial communication units
Most temperature controllers, scales, and inverters support RS-232C, RS-485, and other serial communication protocols. KEYENCE's KV-XL202/XL402 serial communication unit and PROTOCOL STUDIO serial communication setup software make communicating with temperature controllers, scales, inverters, and other devices incredibly simple.
Serial Communication Unit

KV-XL202/KV-XL402
Hardware

RS-232C*1

RS-422A/RS-485*2

Communication speed:
230 kbps

2-port

Functions

PLC link

PROTOCOL
STUDIO

Modbus
master/slave

No procedure

Host link

Unit
interrupt

Synchronization
between units

—
KV-XL202
KV-XL402
Supporting the creation of communication protocols for a wide range of devices

PROTOCOL STUDIO

Completely ladder-less equipment communication
Simply select the communication format and command settings in the tool.
Automatic communication schedule adjustment within the unit
Simple rearrangement of sending and receiving processes into flow format
Ethernet communication supported

When used with the KV-XLE02
Devices compatible with PROTOCOL STUDIO (Serial version)
Temperature adjusters
Manufacturer
Series
Model

RKC INSTRUMENT INC

RB

RB100, RB400, RB500, RB700, RB900

FB

FB100, FB400, FB900

CB

CB100, CB400, CB500, CB700, CB900

FAREX SR Mini HG

H-PCP-J

REX-F

REX-F400, REX-F700, REX-F900


SRZ

Z-TIO, Z-DIO

Z-CT, Z-COM (Z-TIO, Z-DIO, Z-CT)


OMRON Corporation

Thermac NEO

E5AC, E5CC, E5EC, E5GC, E5GN, E5CN, E5CN-H, E5CN-U, E5AN, E5AN-H, E5EN, E5EN-H, E5DC


Yokogawa Electric Corporation

UT Advanced

UT75A, UT55A, UT35A, UP55A, UP35A

UT52A, UT32A, UP32A

Azbil Corporation

SDC

SDC15, SDC25, SDC26, SDC35, SDC36, SDC45A, SDC46A, SDC45V, SDC46V


NX

NX-D, NX-S, NX-DX, NX-DY

CHINO Corporation

DB600

DB630, DB650, DB670

DB

DB1000, DB2000
Weighing indicators

| Manufacturer | Series | Model |
| --- | --- | --- |
| A&D Company, Limited | AD | AD-4410, AD-4407A, AD-4406A, AD-4402, AD-4401, AD-4329, AD-4328 |
Electronic balances
Manufacturer
Series
Model

A&D Company, Limited

MC/GX/GF/GP

MC, GX, GX-K, GF, GF-K, GP

FZ/FX

FZ-i, FZ-iWP, FX-i, FX-iWP

AD-4212

AD-4212A, A-4212B, AD-4212C

SHIMADZU CORPORATION

UX/UW/UW-V

UX, UW, UW-V
Inverters
Manufacturer
Series
Model

Mitsubishi Electric Corporation

FREQROL

FR-A800, FR-F800

FR-A700, FR-E700, FR-D700, FR-F700P

YASKAWA Electric Corporation

GA700/x1000

A1000, V1000, J1000, U1000, GA700

Fuji Electric

FRENIC

FRENIC-MEGA, FRENIC-Multi, FRENIC-Eco, FRENIC-Mini, FRENIC-Ace, FRENIC-HVAC, FRENIC-VG

OMRON Corporation

3G3xx

3G3MX2, 3G3MX2-V1, 3G3RX-V1
Typical connection example
Connecting to a network makes it possible to collect and manage various information from temperature controllers, scales, and inverters. This allows for simplified setting value changeovers and other operations.
The following example includes network-connected inverters.
Serial communication is used to centrally manage equipment operation monitoring and setup changes.
Utilizing serial communication with inverters and other devices makes it possible to read and change operating frequency and other parameters all at once. This helps reduce the amount of work required by eliminating the need to set the parameters for each communication device. Serial communication unit functionality also makes it possible for the PLC to be regularly updated with the most current values and other information from communication devices with absolutely no ladder programming required.