Ethernet Powerlink
This section explains Ethernet Powerlink.
Overview
Ethernet Powerlink is an open network developed by an Austrian company, B&R Industrial Automation GmbH. It is currently managed by the Ethernet POWERLINK Standardization Group (EPSG).
Wiring Method and Communication Protocol
Wiring method
Ethernet Powerlink connects nodes using general-purpose Ethernet. Transmission is fast enough to support Gigabit Ethernet, allowing for communication with fixed cycles as short as 200 μs and data synchronization jitter of 1 μs or less.
Communication protocol
In an Ethernet Powerlink network, the managing node manages communication in a fixed cycle. The network uses the producer/consumer method. A node sends data to another node or other nodes at its own transmission timing and nodes that received data process data with IDs related to them in the order of reception.
Producer/consumer method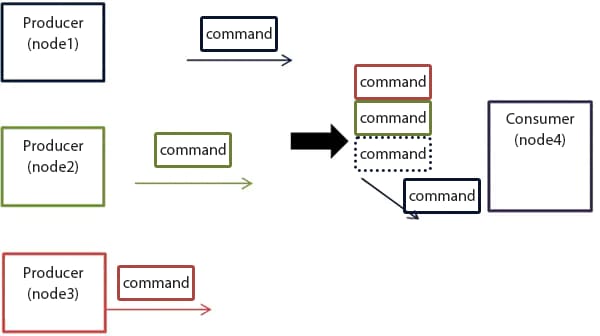 A consumer processes received commands in sequence.
Characteristics
Ethernet Powerlink supports cyclic communication to communicate in fixed cycles, and message communication to communicate as needed in any cycle.
Cyclic communication
The node that manages timing sends a message called Start of Cycle (SoC) to all devices whose timing is synchronized, in a specified cycle. The managing node then sends a command to one node and waits for a response from that node. After completing this command-response communication sequence with all nodes, the managing node sends the next command.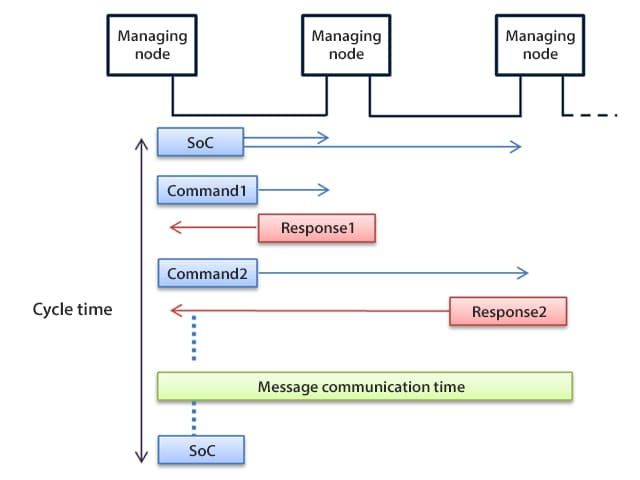 Message communication
This communication method sends a message that asynchronous communication can be started when required data communication is completed in a cycle time, allowing asynchronous data transmission and reception (message communication) to be executed. After the message is sent, the communication process enters a waiting mode until the next cycle.
Company, product, and network names mentioned on this page are either trademarks or registered trademarks of their respective companies.
Note that some information, such as applicable standards and specifications, may have changed since this page was published.
November 2015