Actuators
This page introduces network connection examples for actuators as well as connection examples using KEYENCE's KV-LH20V communication positioning unit.
Network example
Connecting actuators to a network can be done using RS-232C, RS-485, or any other supported open network connection.
A network-compatible unit or board is required for PLCs and PCs.
A 1:1 connection is used for connections via RS-232C.
KEYENCE communication positioning units
The KV-LH20V communication positioning unit allows for easy communication with actuators using Modbus communication and can be programmed using positioning-like operations.
Communication Positioning Unit

KV-LH20V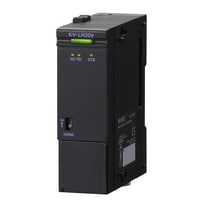 Hardware

Modbus RTU

Simplified wiring

8 axes

Control mode

Positioning

Speed*1

—

Supported models*2

KEYENCE
QS Series

IAI
Electric actuator

ORIENTAL MOTOR
Stepper motor


ORIENTAL MOTOR
Electric actuator


SMC
Electric actuator

—
When an ORIENTAL MOTOR Co., Ltd. stepper motor is used.
Contact your sales representative regarding connectable models.
Easy, manual-free configuration simply by selecting the equipment
Ladder-less design with no communication programming required
Trial run screen for immediate operation confirmation
PLC-based batch management of parameters
KV-LH20V–compatible series
Electric actuators
Manufacturer
Series
Overview

IAI Corporation

PCON

RCP4/RCP3/RCP2
position controller

ACON

RCA2/RCA
position controller

SCON

RCS3/RCS2
position controller

ERC2

Actuator with integrated controller

ERC3

Actuator with integrated controller

ORIENTAL MOTOR Co., Ltd.*1

EAS

EZ Limo electric slider
(equipped with αSTEP AR Series)

DGII

Hollow rotary actuator

SMC Corporation

LECP6/LECA6

Electric actuator
Stepper motors
Manufacturer
Series
Overview

KEYENCE

QS

Hybrid stepper motor

ORIENTAL MOTOR Co., Ltd.*1

AR

αSTEP stepper motor unit

RKII

5-phase stepper motor

PKA

5-phase stepper motor with built-in controller
1 Connectable to FLEX types (with built-in positioning functionality). Not connectable to pulse train input types.
The KV-XH16ML/XH04ML positioning/motion unit allows for easy communication with MECHATROLINK-III–compatible actuators. For details, refer to the Servo Motors page.
The KV-XL202/XL402 serial communication unit and PROTOCOL STUDIO serial communication setup software allow for easy communication with Yamaha Motor Co., Ltd. electric actuators. For details, refer to the Temperature Controllers/Scales/Inverters page.
Typical connection example
Connecting to a network makes it possible to collect and manage various information from actuators. This allows for the construction of systems for status monitoring, production management, changeovers, and more.
The following example includes a network-connected actuator.
Positioning-like control with no communication program required
With conventional systems, communicating with electric actuators meant spending time programming, and for open networks, this meant programming while also giving due consideration to the device map.
Using the KV-LH20V allows for communication with no programming required and control similar to positioning.
IC tray chip transfer device
(2-axis XY positioning control)