Measuring Straightness
When measuring straightness, you are checking how accurately straight a target is.
This indication applies to straight lines and not to planes. Therefore, measuring straightness can identify any warpage in long objects.
Sample Drawings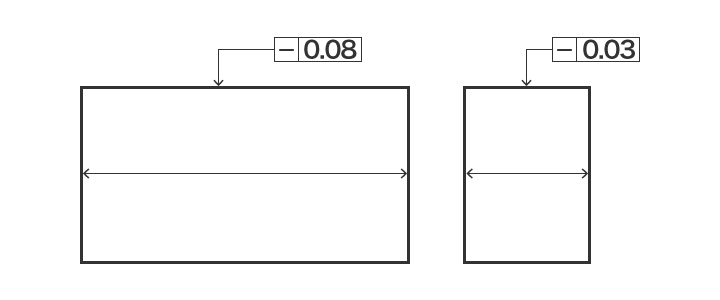 Using a Height Gauge
Secure the target so that the height is evenly matched on the left and right, using small jacks in order to prevent the target from tilting. Move the target or the height gauge straight to measure the straightness.
The difference between the maximum and minimum values (△H) is the straightness.
DISADVANTAGES
In general, height gauges have lower precision than coordinate measuring machines. In addition, measured values can change with the force used to place the measuring part of the height gauge on the target, causing the measurement results to become unstable.
With targets that cannot be placed level, the height gauge cannot be moved, which makes measurement difficult.
Using a Coordinate Measuring Machine (CMM)
A coordinate measuring machine can measure straightness by the operator simply putting the stylus lightly on the target. Thanks to this feature, there is almost no error caused by measurement pressure, and stable measurement results can be obtained.
Additionally, the stylus can be placed on the target from different angles, which enables accurate measurement of targets that cannot be secured level, i.e., targets that cannot be measured using a height gauge.
Measurement screen

a

Straightness measurement result