Measuring Concentricity
When measuring concentricity, you are checking the accuracy of the coaxiality of the axes of two cylinders, that the center points match. Unlike coaxiality, the datum is the center point (plane).
Sample Drawings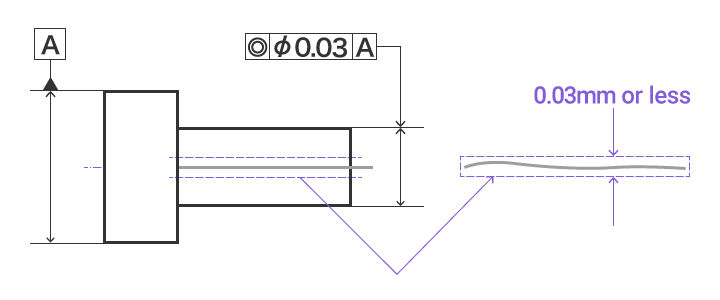 Using a Dial Gauge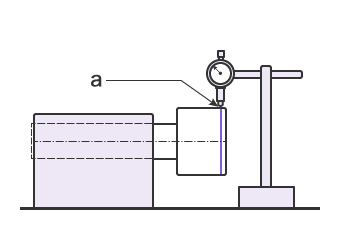 Hold the target in place and put the dial gauge on the vertex of the circumference for the axis for which tolerance is indicated. Rotate the target and measure the maximum and minimum run-out values using the dial gauge. Measure around the specified circumference. The greatest maximum-minimum difference is used as the concentricity.
DISADVANTAGES
Factors such as the angle and strength used to put the dial gauge on the target affect the measured value, which implies that measurements may differ depending on the operator.
The friction between the tip of the dial gauge and the surface of the target may also leave scratches on the surface of the target.
Using a Coordinate Measuring Machine (CMM)
Unlike with coaxiality, you measure the circle of the plane.
Put the stylus on the measurement point on the datum circle, and then put the stylus on the measurement point on the target circle to measure the concentricity.
The stylus only comes into light contact with the surface and does not scratch the target.
Measurement screen

a

Datum circle

b

Target circle

c

Concentricity measurement result