Food & Pharmaceutical Industries
Dust Cannot be Removed With Air Shower
An air shower is an antechamber for removing dust or other particles that adhere onto the surface of articles or people before room entry. It does this by applying jets of air cleaned with HEPA filters. If clothes or dust are still charged with static electricity, the dust blown off by the air will adhere again.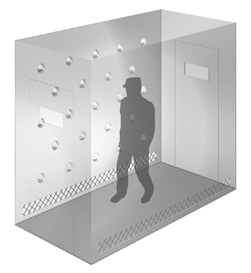 Conventional countermeasures
Air shower
It cannot eliminate static electricity.
It makes the charge stronger.
It cannot remove dust and other particles completely.
Countermeasures with static eliminators (ionizers)
Ionized air blows off dust and other particles and neutralizes the charge. The blown-off dust does not adhere again, which reduces 75% of defects caused by contamination.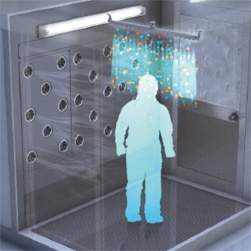 Improvements and Effects
Words from the worksite
Reduced cost of defects caused by dust
Cost for addressing complaints: $3,000/month + Recall cost of $45,000 in every two years = $58,500/year
In addition, serious complaints affect the level of trust in the company, so there are considerable effects that cannot be calculated.